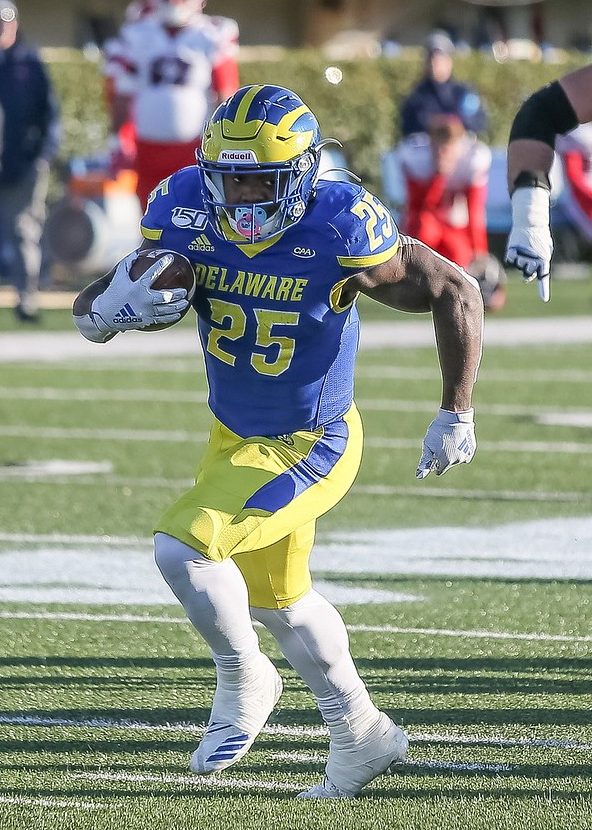 Following the 11/16/2019 victory over Stony Brook University, the Blue Hen TD Club announces the following Most Valuable Player Awards:
Offense – Will Knight #25 Running Back
Defense – Cam Kitchen #99 Defensive Lineman
Special Teams – Nick Pritchard #31 Punter
Next BHTC Luncheon
Thursday, November 21 2019
Guest Coach – Clint Sintim (linebackers & special teams)
Guest Speaker – Dave Raymond (Lifelong Blue Hen & football alum)
doors open: 11:15 am & program begins: Noon
members $20 / non-members $25
NOTE: Senior Awards voting takes place at this meeting!
Note: Photos, courtesy of Mark Campbell. www.henshots.com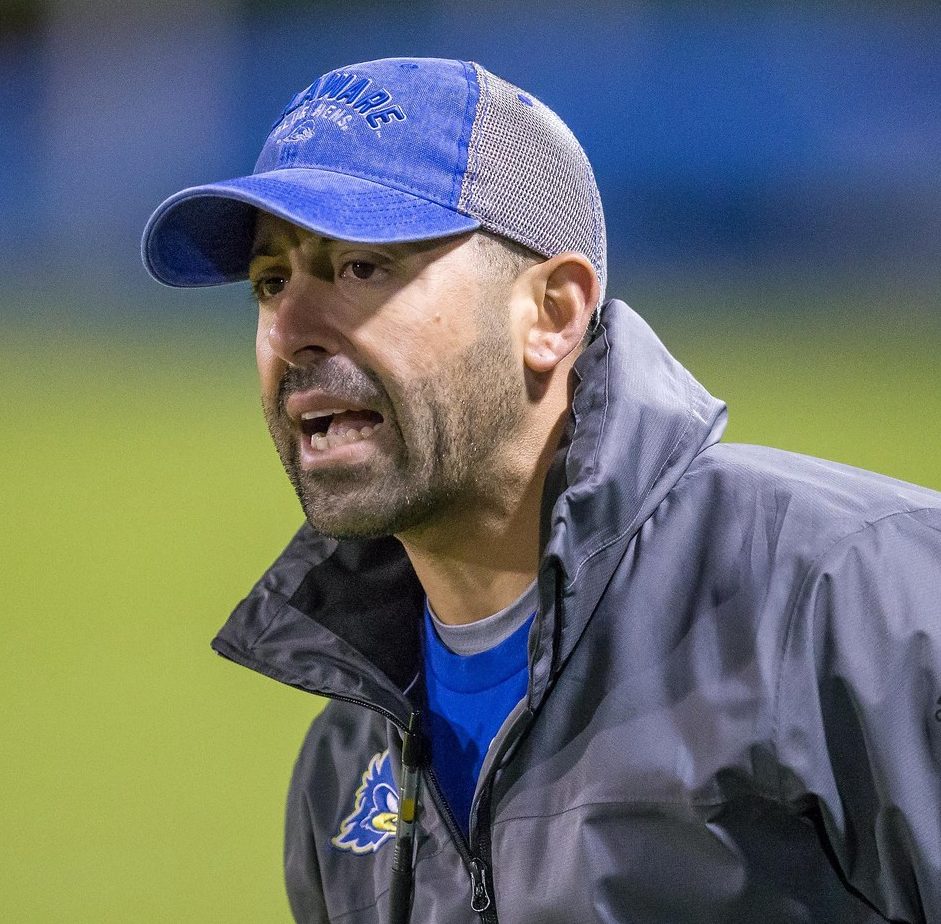 Our guest speakers today were UD Football Defensive Coordinator, Chris Cosh, and UD Womens Soccer Coach, Mike Barroqueiro. Coach Cosh gave us a run down of Saturday's opponent, Stony Brook University.
Mike Barroqueiro impressively coached our WSoccer team to a 12-7 record and a semifinal appearance in the CAA Championship in only his third year in the program. The win total was three times the prior year win total, and the third best year to year turnaround among over 300 NCAA Division I programs. Numerous records were broken, and Mike expressed his goal of winning the CAA Championship. The team plays an exciting brand of fast paced soccer at Grant Stadium, and is on a path for continued success.
Congratulations to TD Club members for participating in bus trips to all five away games, including a sold-out trip to Villanova coming up on 11/23/2019.
Please make note that the annual TD Club Senior Awards Banquet is scheduled for Sunday, January 26, 2020 at 4:00 PM in Clayton Hall. Reservations are now being accepted.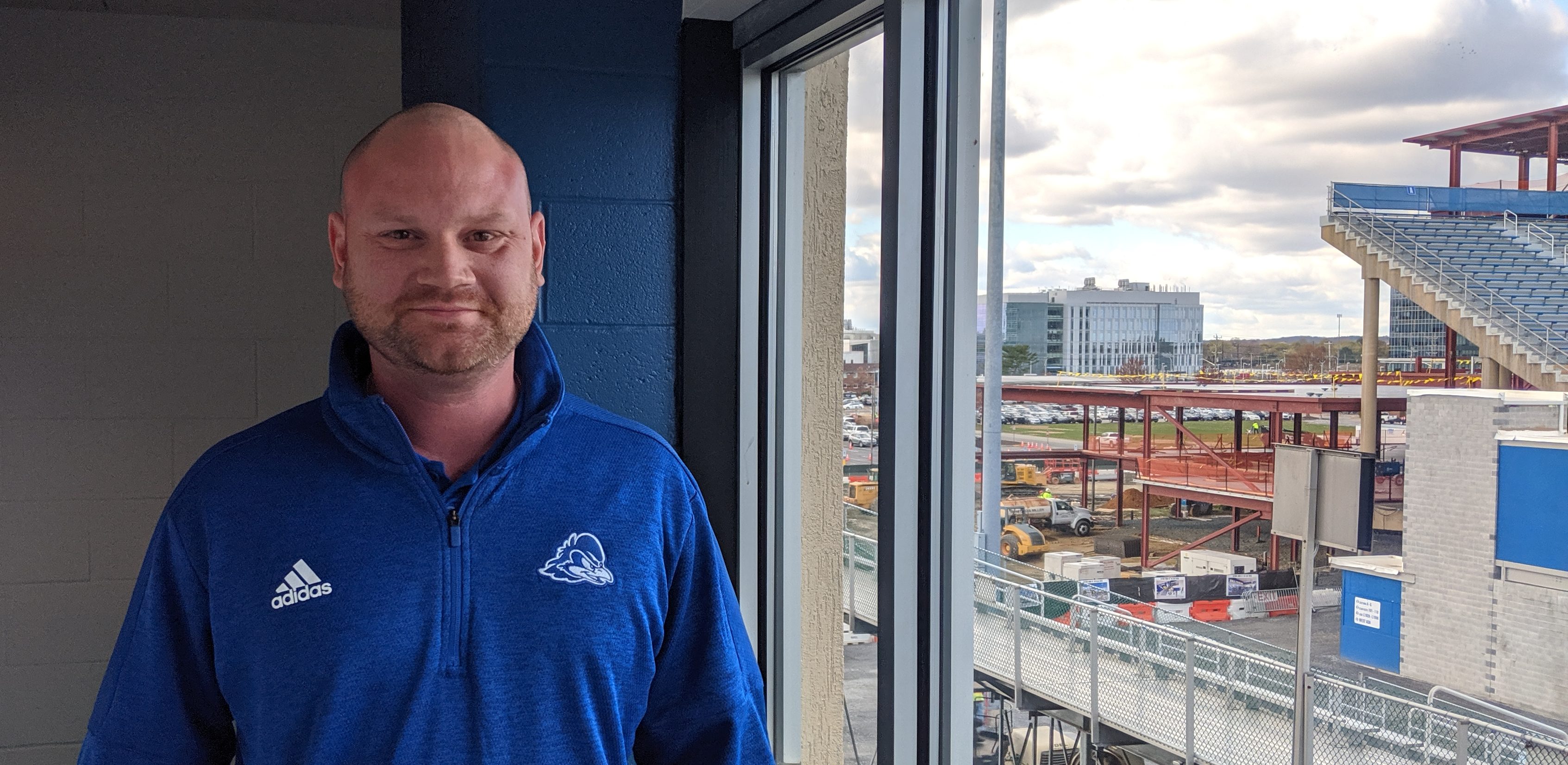 Our speakers today were Jordan Skolnick, Deputy Athletic Director, and Greg Meyer, Tight Ends Coach.
Jordan Skolnick, pictured below (sorry about the eyes closed, but we captured that smile!), gave an update on Phase One of the athletic facilities improvements. The Whitney Athletic Center and the new press box will be completed by August, 2020. The WAC will include a 9,000 SF weight room, 3X larger than our current weight room in the BCC. The new facility will be used by all 600 of our student athletes, and will include educational, nutritional, training and physical therapy areas. Phase Two will include the renovation of the Field House, and is to follow shortly. Phase Three will be a renovation to the east stands of Delaware Stadium.
Greg Meyer coached previously at FBS University of Buffalo, and grew up in Buffalo, NY. Greg gave us an update of the Tight Ends on our squad, as well as a preview of the U. Albany Great Danes.
Following the meeting of over 75 members and guests, a number of the attendees watched the outstanding UD Field Hockey squad win their CAA semifinal game, defeating JMU, 5-3. They next play Northeastern University on Sunday, 11/10 at 1:00 PM for a berth in the NCAA tournament.