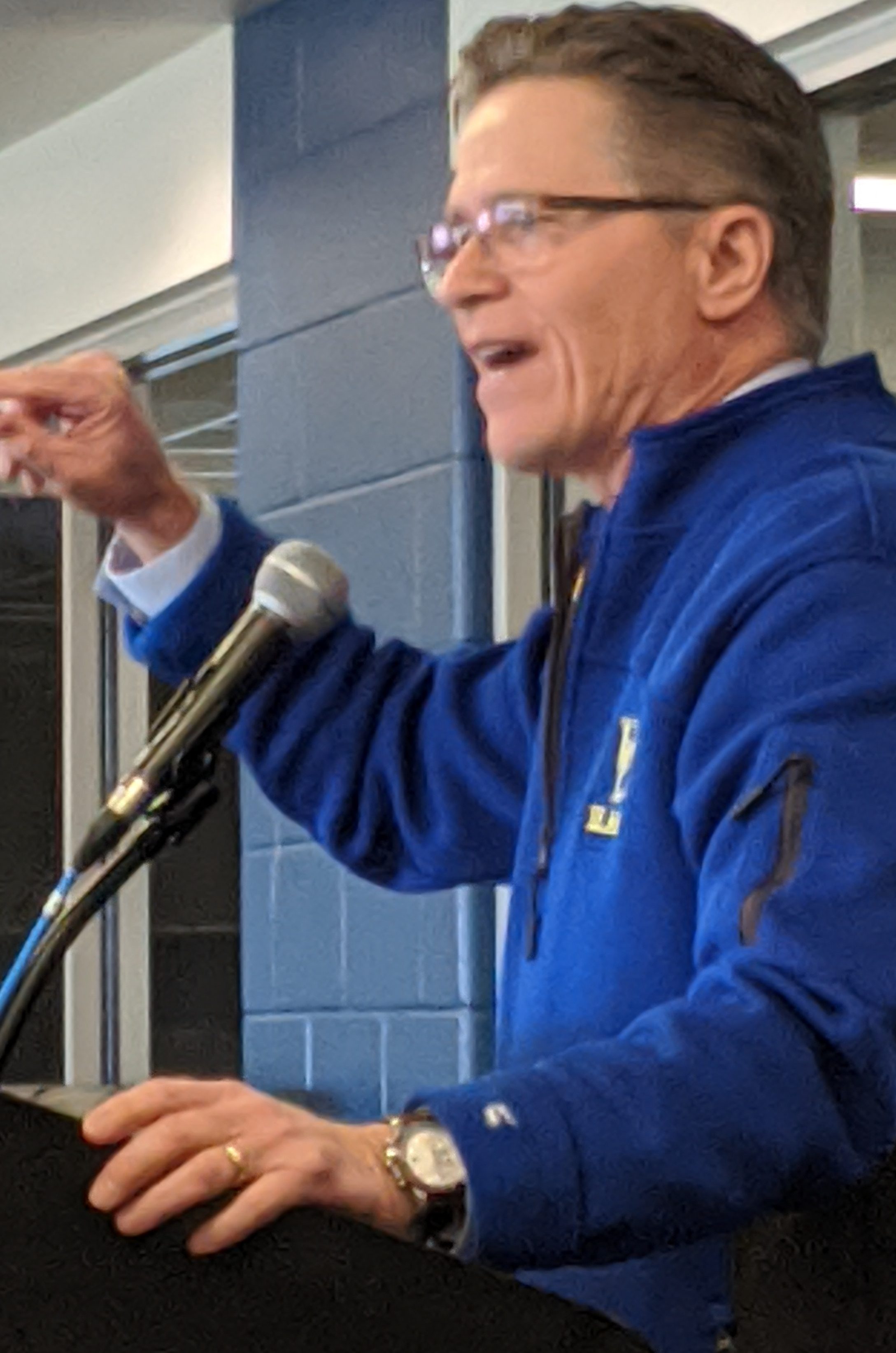 For the Club's last meeting of the year, we had an outstanding speaker in David Raymond (pictured above), son of legendary UD coach Harold R. (Tubby) Raymond. Dave related stories of growing up as the son of a future Hall of Fame coach, as well as his time with Philadelphia Phillies greats, Larry Boa, Tug McGraw and others. Dave also gave us an interesting "back story" of the "Shoot Out" at Youngstown during the 1979 season. Dave, of coarse, created and performed as the Phillie Phanatic.
Attending the meeting was one of our MVP's from the win over Stony Brook, Nick Pritchard. Nick is pictured below with his proud Dad, Jack Pritchard. For the Stony Brook game, the Special Teams MVP had 4 punts, 2 of which went over 50 yards, including one of 62 yards, another inside the 20, and a 46.5 average. Nick is 3rd at UD, all-time, with career punting yards, and 2nd all-time with career punting average. Nick would like consideration for an NFL opportunity after graduation, but also has high interest in coaching, including at UD.
Our additional speaker was Clint Sintim, our outside linebackers and special teams coach. Clint made clear that the coaches and team understand the passion of all UD fans and the club members, in particular, to get a win vs. the Wildcats.
Thank you to all who attended our meetings this year, participated in our five away game bus trips, and the efforts of John Dollmeyer as President of the Club. Next Meeting: 4/16/2020 prior to the Spring Blue-White game.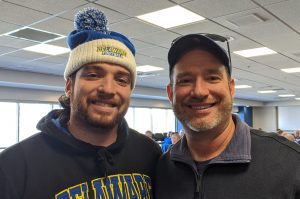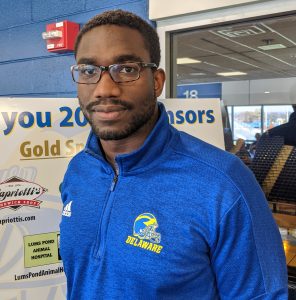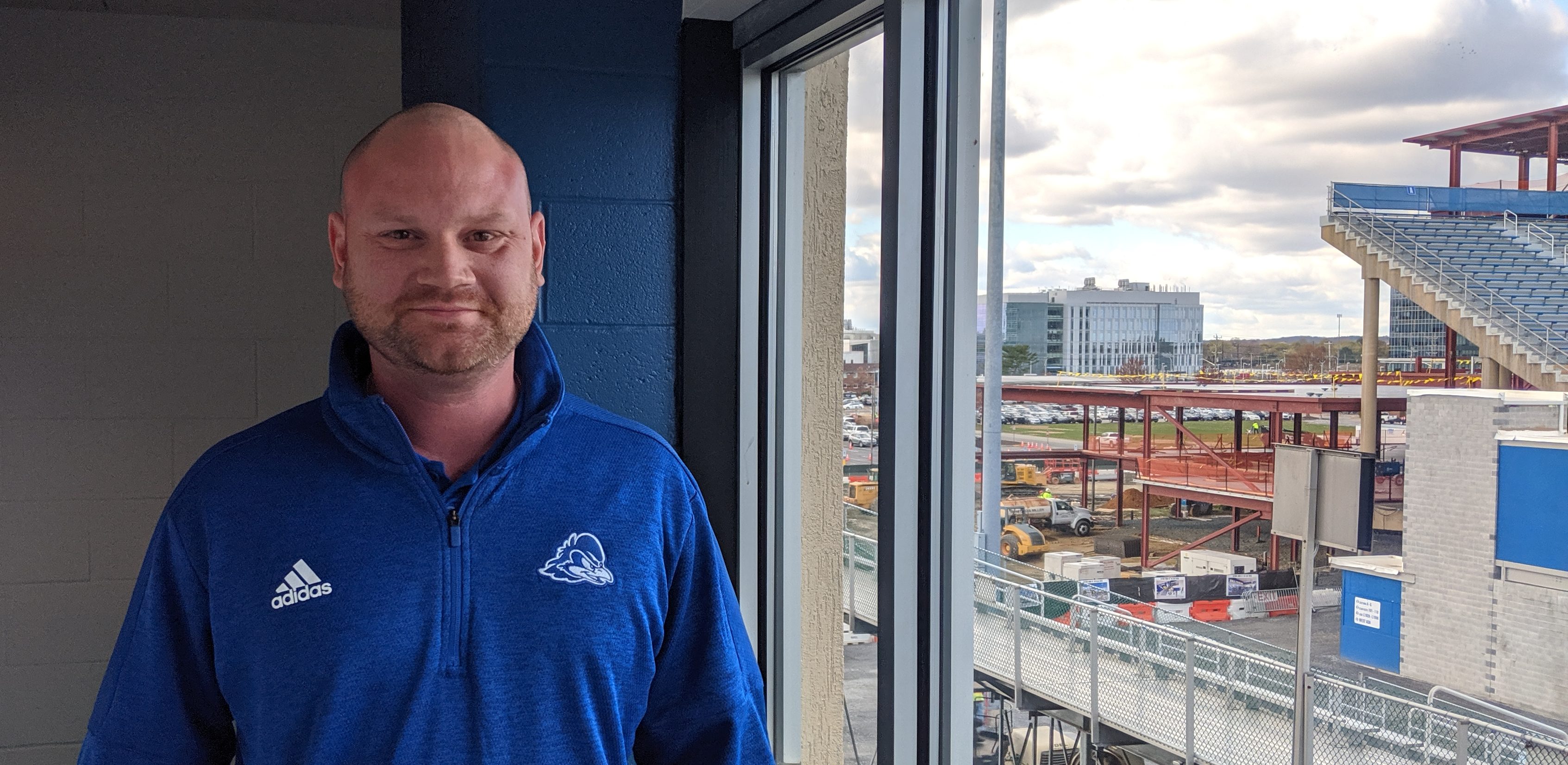 Our speakers today were Jordan Skolnick, Deputy Athletic Director, and Greg Meyer, Tight Ends Coach.
Jordan Skolnick, pictured below (sorry about the eyes closed, but we captured that smile!), gave an update on Phase One of the athletic facilities improvements. The Whitney Athletic Center and the new press box will be completed by August, 2020. The WAC will include a 9,000 SF weight room, 3X larger than our current weight room in the BCC. The new facility will be used by all 600 of our student athletes, and will include educational, nutritional, training and physical therapy areas. Phase Two will include the renovation of the Field House, and is to follow shortly. Phase Three will be a renovation to the east stands of Delaware Stadium.
Greg Meyer coached previously at FBS University of Buffalo, and grew up in Buffalo, NY. Greg gave us an update of the Tight Ends on our squad, as well as a preview of the U. Albany Great Danes.
Following the meeting of over 75 members and guests, a number of the attendees watched the outstanding UD Field Hockey squad win their CAA semifinal game, defeating JMU, 5-3. They next play Northeastern University on Sunday, 11/10 at 1:00 PM for a berth in the NCAA tournament.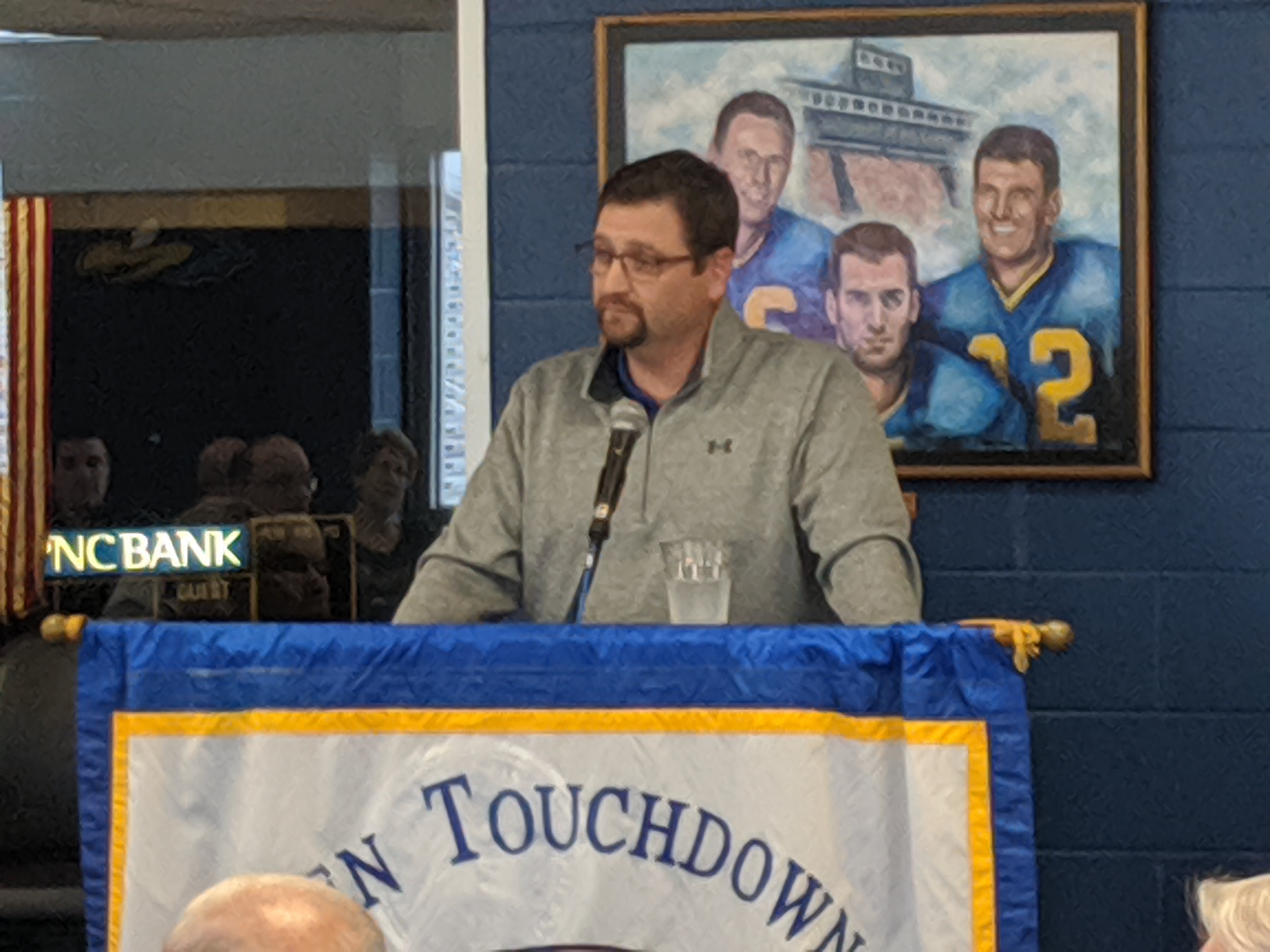 Our guests today were, Jared Ambrose, Offensive Coordinator for Blue Hen Football, Martin Ingelsby, Men's Basketball Head Coach, and Bob Clark, Assoc. Head Coach for Women's Basketball.
Coach Ambrose provided a scouting report for the Towson Tigers, the team for whom he coached until this year. He also provided those in attendance with the starting QB on Saturday, not to be disclosed here.
Coaches Ingelsby and Clark gave us a rundown on each squad, and expectations are high for both. The season opens next week for both teams, with home games in the Bob Carpenter Center.
For those that signed up for the bus trip to Towson (SOLD OUT), the bus will leave from in front of the ice rink at 10:30 AM SHARP!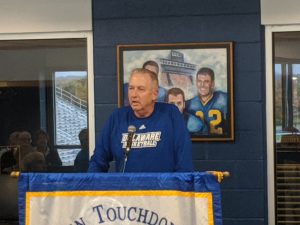 Next week's program on Friday, 11/1 will start at 11:40 AM in order to clear the room in preparation for the Women's home opener at 2:00 vs. Maine. Our speakers will be Greg Meyer, Asst. Coach/Tight Ends and a mystery guest to be disclosed during the week.

We look forward to hearing from Jared Ambrose, Offensive Coordinator and QB Coach.
Our special guests will be Natasha Adair and Martin Ingelsby, Womens and Mens head basketball coaches. The basketball season is fast approaching, expectations are high, and we will get a first-hand report from our coaches on what to look for this season.
Doors open at 11:15 in the Bob Carpenter Club. Presentation at Noon. Cost is $20 for member, $25 for non-member.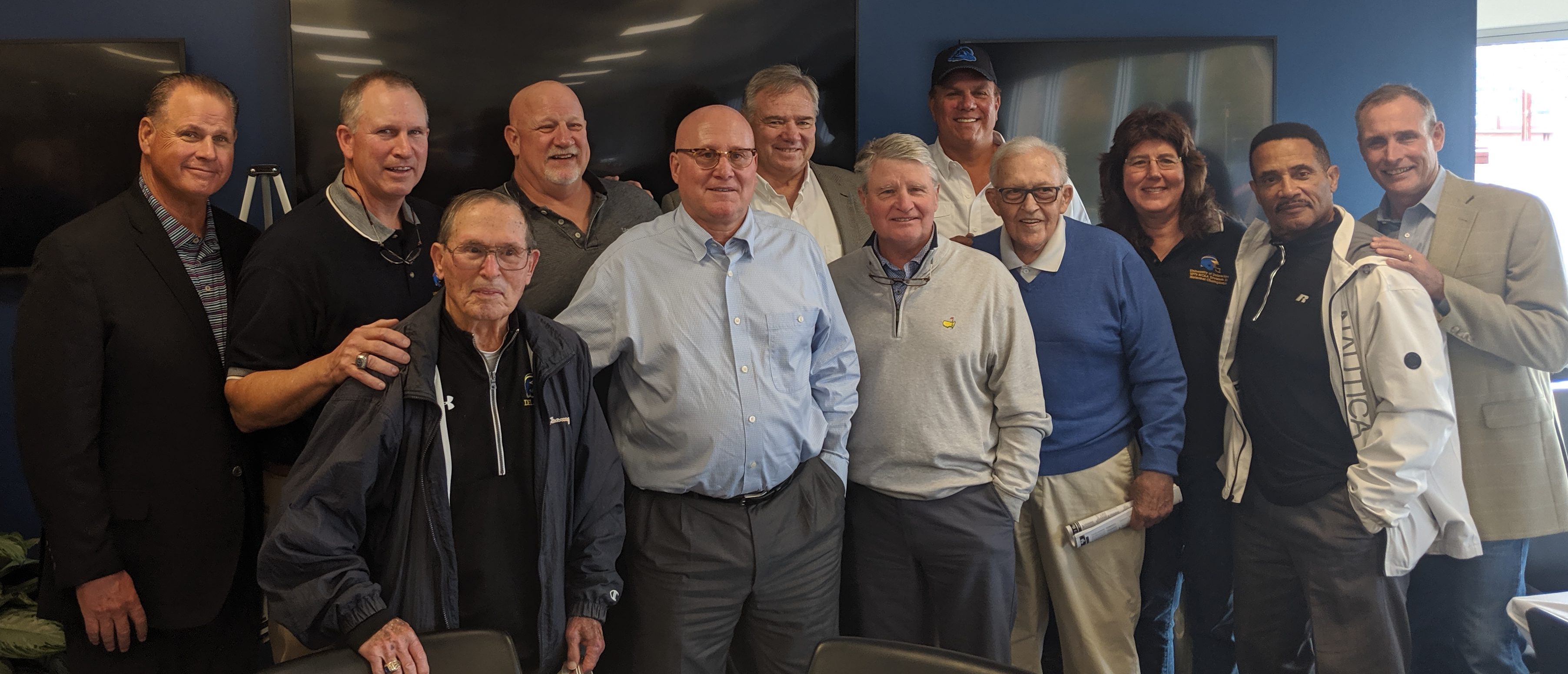 At today's luncheon meeting, with a packed house of over 70 in attendance at the Bob Carpenter Club, we heard from a great group of speakers. To start, Dave Legg, Assistant Coach/Linebackers & Special Teams, gave us a run down on what to expect from the Richmond Spiders. We also honored Nick Pritchard, our oustanding MVP punter, and Chuka Ezeuzoh representing the OL for their MVP performance vs. U. New Hampshire. Jake Roth, MVP placekicker was not able to attend.
Pictured here are returning members of the 1979 National Championship team. In attendance were coaches Ted Kempski and Jimmy Flynn, along with Chris Raymond, representing the Raymond family, and Bill Maley, representing his father, Defensive Coordinator of the same name.
Players in attendance were: Jim Brandemarte, Brandt Kennedy, David Kindell, Herb Beck, organizer Bob Lundquist, Randy Moccia, Mike Bachman, and team manager, Nellie Forwood. The stories they told of the comeback wins, including the "Youngstown Shootout" were a blast to hear. What was the motivation for that successful season, was asked? The answer: The narrow one point loss in the championship in 1978, the quiet yet forceful leadership of future NFL QB Scott Brunner, and the unselfishness of playing for each other as equals.
Penn game BHTC MVP's
Offense – Nolan Henderson #14 – quarterback
Defense – Anthony Toro #10 – linebacker
Special Teams – Jourdan Townsend #17 – wide receiver
Next BHTC Luncheon
Thur, Sept 26
Guest Coach: Holman Copeland – Cornerbacks
Guest Speaker: David Tinsley – 2015 Captain & Taylor Memorial Award winner
doors open: 11:15 am & program begins: Noon
members $20 / non-members $25
Earlier today, we heard from AD, Chrissi Rawak, Wide Receiver Coach, Alex Wood and Asst AD for Athletic Communications, Scott Day. Chrissi updated us on the progress in building the culture of our program and the success of our student-athletes. The progress in all areas has been notable in her three short years with us.
Coach Wood provided information on our opponent in North Dakota State University, and what to watch for in the game.
Scott Day reported that our Fall sports are off to the best start on record, with an overall record of 16-4. In the hours since, #9 Field Hockey has defeated #21 Rutgers and Volley has won again to go to 6-1. The Hens are rolling.
Deputy AD, Jordan Skolnick also provided information that season tickets in football are up strongly after a number of years of decline.
The next meeting will be 9/20/19 before the UPenn game.
Piling up 700 wins isn't easy. It takes lots of dedication from everyone involved and that's exactly what was on display last Saturday in Rhode Island as the Blue Hens won an absolute thriller against URI, 44-36 in triple overtime to start the season 2-0, and more importantly 1-0 in the CAA.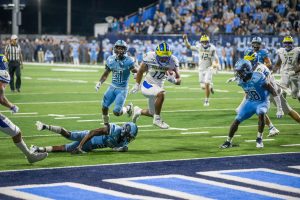 It was the program's 700th victory, making Delaware one of just seven FCS schools to reach that number.
Offensive Player of the Week – Andre Robinson (20 carries, 111 yards), one TD
In what he has called his best collegiate performance to date, Robinson was outstanding for the Blue Hens, giving them their first 100-yard rusher of the season and coming up with numerous big runs in the second half.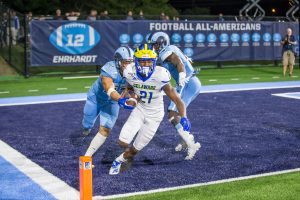 Defensive Players of the Week – Justis Henley and Dom Covatto
Covatto was outstanding on the line for the Blue Hens, countless plugging holes and helping limit the Rams to 2.8 yards per carry. Henley was the obvious hero with a career-high nine tackles and of course the game-winning INT in the third OT.
Special Teams Player of the Week – Jake Reed
Reed, who has stepped into the primary long snapper role this year, has been outstanding in both games so far. He also made a great tackle to shut down a URI return in the first half.
In the ninth meeting between the two schools, your Fighting' Blue Hens took down visiting Delaware State, 31-13, in a renovated Delaware Stadium in front of nearly 16,000 fans on opening night.
62 different student-athletes played at least one snap during the game with 23 of those making their collegiate debut.
Next up: CAA play with a road test at Rhode Island.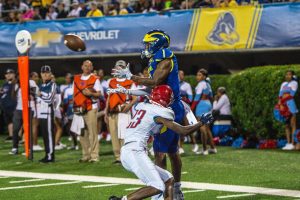 Offensive – Thyrick Pitts
Pitts hulled in a career-high six catches for 81 yards and one TD to be named the Nate Beasley Most Outstanding Player of the game.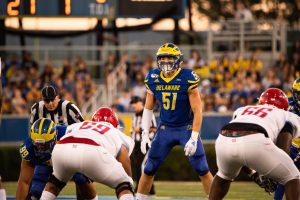 Defensive – Drew Nickles
After coming off an outstanding offseason, Nickles made a career-high six tackles to help the defense hold Delaware State to just six points for most of the season-opening victory.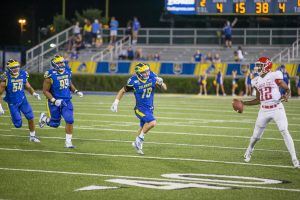 Special Teams – Matt Palmer
Making his collegiate debut, Palmer was tremendous in special teams coverage, filling the gaps and making a huge stop on a kickoff that pinned the Hornets deep in their own territory in the first half.
We had a full house in the Bob Carpenter Club on Aug. 28th! Head Coach Danny Rocco spoke at length about the team. We have experience and depth on both lines. The QB position is the strongest in years, and there are several RB's with breakaway potential. The back seven on defense are young, but very talented, and our specialists in the kicking game are among the tops in FCS.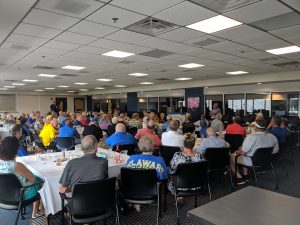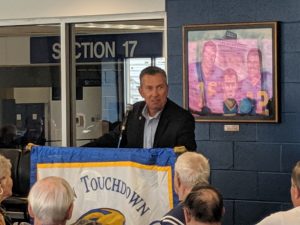 Our friend and Associate A.D for Major Gifts, Jerry Oravitz also spoke and told us of his life long passion for our Fightn' Blue Hens.
Another highlight of the day was a close up view of beautifully renovated Delaware Stadium. The next meeting
is Thursday, Sept. 5th, prior to the Rhode Island away game.