Earlier today, we heard from AD, Chrissi Rawak, Wide Receiver Coach, Alex Wood and Asst AD for Athletic Communications, Scott Day. Chrissi updated us on the progress in building the culture of our program and the success of our student-athletes. The progress in all areas has been notable in her three short years with us.
Coach Wood provided information on our opponent in North Dakota State University, and what to watch for in the game.
Scott Day reported that our Fall sports are off to the best start on record, with an overall record of 16-4. In the hours since, #9 Field Hockey has defeated #21 Rutgers and Volley has won again to go to 6-1. The Hens are rolling.
Deputy AD, Jordan Skolnick also provided information that season tickets in football are up strongly after a number of years of decline.
The next meeting will be 9/20/19 before the UPenn game.
Piling up 700 wins isn't easy. It takes lots of dedication from everyone involved and that's exactly what was on display last Saturday in Rhode Island as the Blue Hens won an absolute thriller against URI, 44-36 in triple overtime to start the season 2-0, and more importantly 1-0 in the CAA.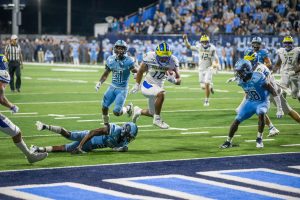 It was the program's 700th victory, making Delaware one of just seven FCS schools to reach that number.
Offensive Player of the Week – Andre Robinson (20 carries, 111 yards), one TD
In what he has called his best collegiate performance to date, Robinson was outstanding for the Blue Hens, giving them their first 100-yard rusher of the season and coming up with numerous big runs in the second half.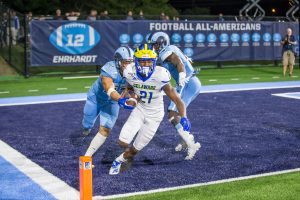 Defensive Players of the Week – Justis Henley and Dom Covatto
Covatto was outstanding on the line for the Blue Hens, countless plugging holes and helping limit the Rams to 2.8 yards per carry. Henley was the obvious hero with a career-high nine tackles and of course the game-winning INT in the third OT.
Special Teams Player of the Week – Jake Reed
Reed, who has stepped into the primary long snapper role this year, has been outstanding in both games so far. He also made a great tackle to shut down a URI return in the first half.
In the ninth meeting between the two schools, your Fighting' Blue Hens took down visiting Delaware State, 31-13, in a renovated Delaware Stadium in front of nearly 16,000 fans on opening night.
62 different student-athletes played at least one snap during the game with 23 of those making their collegiate debut.
Next up: CAA play with a road test at Rhode Island.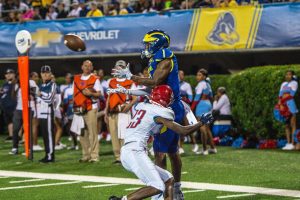 Offensive – Thyrick Pitts
Pitts hulled in a career-high six catches for 81 yards and one TD to be named the Nate Beasley Most Outstanding Player of the game.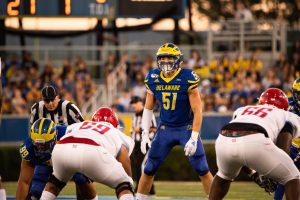 Defensive – Drew Nickles
After coming off an outstanding offseason, Nickles made a career-high six tackles to help the defense hold Delaware State to just six points for most of the season-opening victory.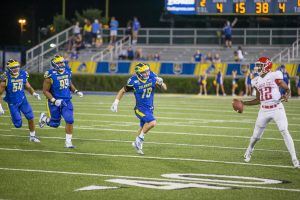 Special Teams – Matt Palmer
Making his collegiate debut, Palmer was tremendous in special teams coverage, filling the gaps and making a huge stop on a kickoff that pinned the Hornets deep in their own territory in the first half.
We had a full house in the Bob Carpenter Club on Aug. 28th! Head Coach Danny Rocco spoke at length about the team. We have experience and depth on both lines. The QB position is the strongest in years, and there are several RB's with breakaway potential. The back seven on defense are young, but very talented, and our specialists in the kicking game are among the tops in FCS.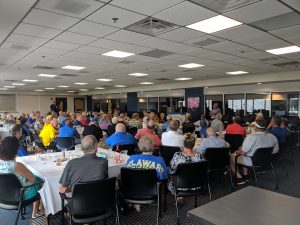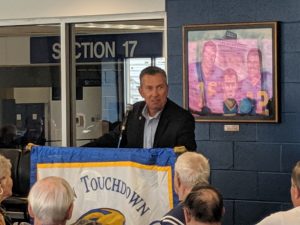 Our friend and Associate A.D for Major Gifts, Jerry Oravitz also spoke and told us of his life long passion for our Fightn' Blue Hens.
Another highlight of the day was a close up view of beautifully renovated Delaware Stadium. The next meeting
is Thursday, Sept. 5th, prior to the Rhode Island away game.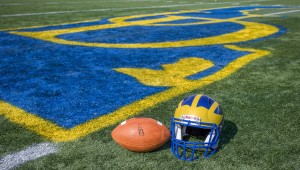 For 74 seasons the official launch of each @DelawareFB season is the first @BlueHenTDClub lunch.
Wed-8/28 we launch this season with head coach Danny Rocco as our coach speaker & lifelong Blue Hen, Jerry Oravitz as guest speaker. 11:15 am food service-Noon program start, in the Carpenter Club inside the Bob Carpenter Center. The view of newly renovated Delaware Stadium will be spectacular!
$20 members $25 non-members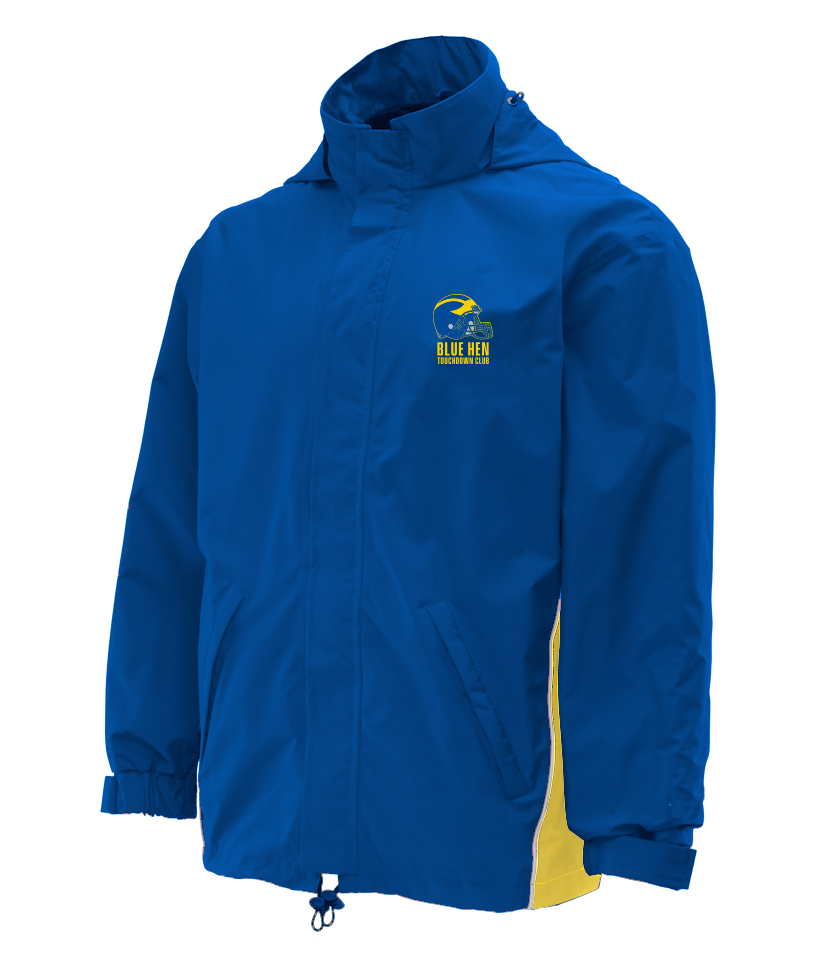 Hello BHTC members,
Some members have inquired about getting Boathouse rain gear, similar to what was offered for sale a number of years ago, and we were able to get approval to offer a Gore-Tex rain jacket and Gore-Tex rain pants. The jacket is embroidered with the Delaware football helmet and the BHTC name.
https://udtdclub2019.itemorder.com
Also available for sale are a half-zip pullover in royal blue and both men's and women's polo shirts in royal blue and white, all with the Delaware football helmet and the BHTC name.
The store is now open and will close on Monday, August 19th. Manufacturing and shipping takes about 4 weeks and you should have anything you order in time for the Penn game. Ordering, payment collection and shipping are all handled by Boathouse, and if any items you order did not meet their minimum order they will refund your money after the store closes.
The Blue Hen Touchdown Club does make a very small profit from the sale of these items and those proceeds will go towards the 2019 BHTC Football Banquet honoring this years seniors.
Happy shopping and Go Hens !!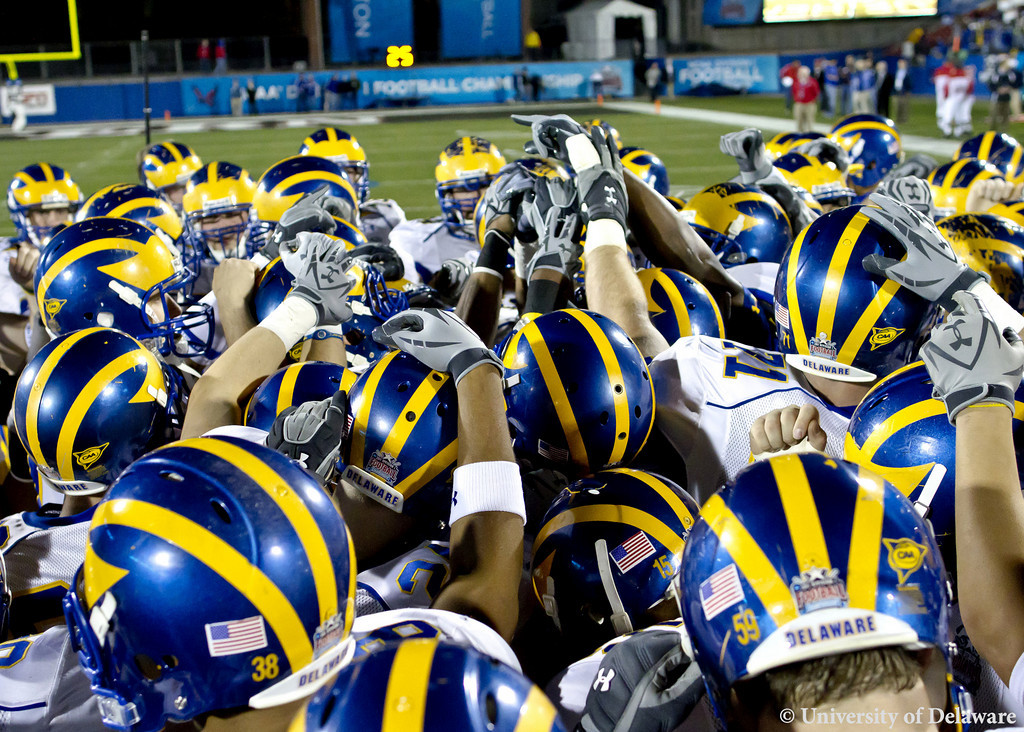 Watch your mailbox for the membership renewal form and announcement of the Saturday, August 17th Preseason Tailgate. Also listed will be all of our Club Luncheons in the Bob. When you are not checking out our stadium construction, take a look at the Bus Trips link, above. Please note that Sign-up Cut-off Dates are Sun, Aug 4th for Rhode Island, Sun. August 17th for Pitt and Sun. Sept. 15th for Elon.

Interest has been high enough we are now running a BHTC bus trip to the Pittsburgh game. Like all of our overnight trips this year, the final price will lower as more Blue Hen fans sign up for the trip.
Current BHTC Member Price is $249 p/p, double occupancy.
Non-members add $10 p/p.
The fan free time in Pittsburgh offers a lot to do, including the Toby Keith concert or the Pirates vs Reds game, both on Friday night. This is a confirmed trip; sign-up cutoff for this trip is Sunday, August 18, 2019. Contact us through the website to purchase your seats.
Friday, September 27, 2019
7:00 am – Depart Newark
8:15 am – Additional Pickup: Exton, PA
12:45 pm – Arrive Pittsburgh
Free to Explore Pittsburgh, attend the Toby Keith Concert
or the Pirates vs Reds baseball game.
Saturday, September 28, 2019
No BHTC Pregame Tailgate
12:30 pm – (expected) Kickoff time for Delaware vs Pittsburgh
5:30 pm – (expected) Cracker Barrel, New Stanton PA dinner stop (not included in price)
10:00 pm – (expected) Exton, PA drop-off
11:30 pm – (expected) Newark, DE return
Hotel: Residence Inn – North Shore
574 W General Robinson St, Pittsburgh, PA 15212
Friday night (double occupancy) included in bus trip price – Free Breakfast
Friday Night – 7pm – Toby Keith Concert – Highmark Stadium
Toby Keith Tickets
Toby Keith Stub Hub Tickets
Estimated Uber & Lyft cost each way – $8-$10
Friday Night – 7pm – Pirates vs Reds – PNC Park
Pirates Tickets
Pirates Stub Hub Tickets
PNC Park is across street from the hotel

Thanks to fan demand, the BHTC has added a bus tip to the Fightin' Blue Hens game at Elon on Saturday, October 12th.
Departs Newark, DE on Friday, October 11th at approx. 7:30 am.
Individual time on Friday afternoon / evening to explore downtown Durham's sights and dining, stroll the campus of Duke University or even golf that day.
The road show of the Broadway show Aladdin is at the Durham Theater on Friday night as well.
Included in the price of the trip are bus charter, Friday night hotel (double occupancy)
a bus-side tailgate and a catered meal for the return trip.
Arrive back in Newark, DE late on Saturday night.
All BHTC overnight bus trips are priced by the number of riders taking that particular trip.
Contact us here for more details and pricing.
Go Hens !!!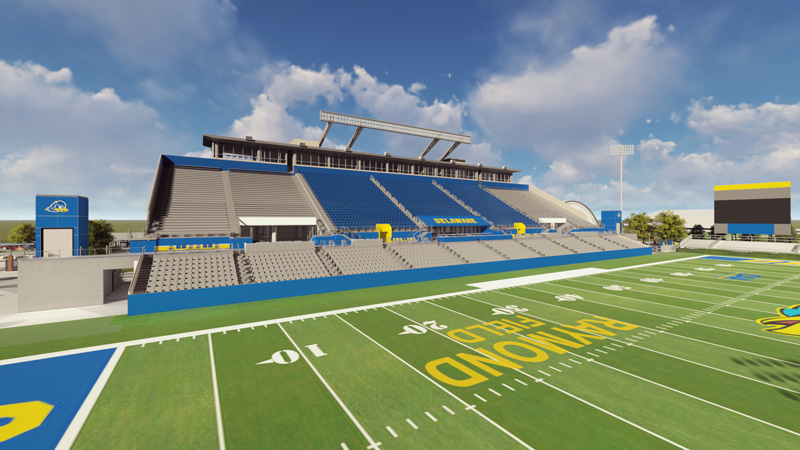 The board and club members made a decision in 2017 to contribute $50,000 to the new Whitney Athletic Center, and the long delayed renovations to Delaware Stadium. The goal of the project is to provide the best possible experience for our student athletes.
The Club can now report that 70% of the commitment has already been met, and the funds are in place to complete the pledge two years early.
The club thanks the leadership of UD in bringing this project to fruition.
Go Hens!