Week #2: Rhode Island – Players of the Week
Piling up 700 wins isn't easy. It takes lots of dedication from everyone involved and that's exactly what was on display last Saturday in Rhode Island as the Blue Hens won an absolute thriller against URI, 44-36 in triple overtime to start the season 2-0, and more importantly 1-0 in the CAA.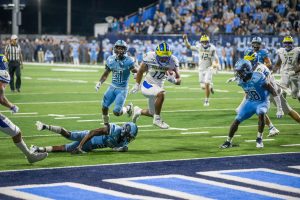 It was the program's 700th victory, making Delaware one of just seven FCS schools to reach that number.
Offensive Player of the Week – Andre Robinson (20 carries, 111 yards), one TD
In what he has called his best collegiate performance to date, Robinson was outstanding for the Blue Hens, giving them their first 100-yard rusher of the season and coming up with numerous big runs in the second half.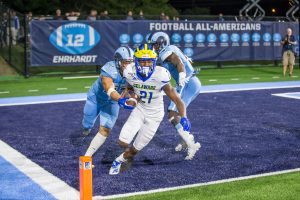 Defensive Players of the Week – Justis Henley and Dom Covatto
Covatto was outstanding on the line for the Blue Hens, countless plugging holes and helping limit the Rams to 2.8 yards per carry. Henley was the obvious hero with a career-high nine tackles and of course the game-winning INT in the third OT.
Special Teams Player of the Week – Jake Reed
Reed, who has stepped into the primary long snapper role this year, has been outstanding in both games so far. He also made a great tackle to shut down a URI return in the first half.