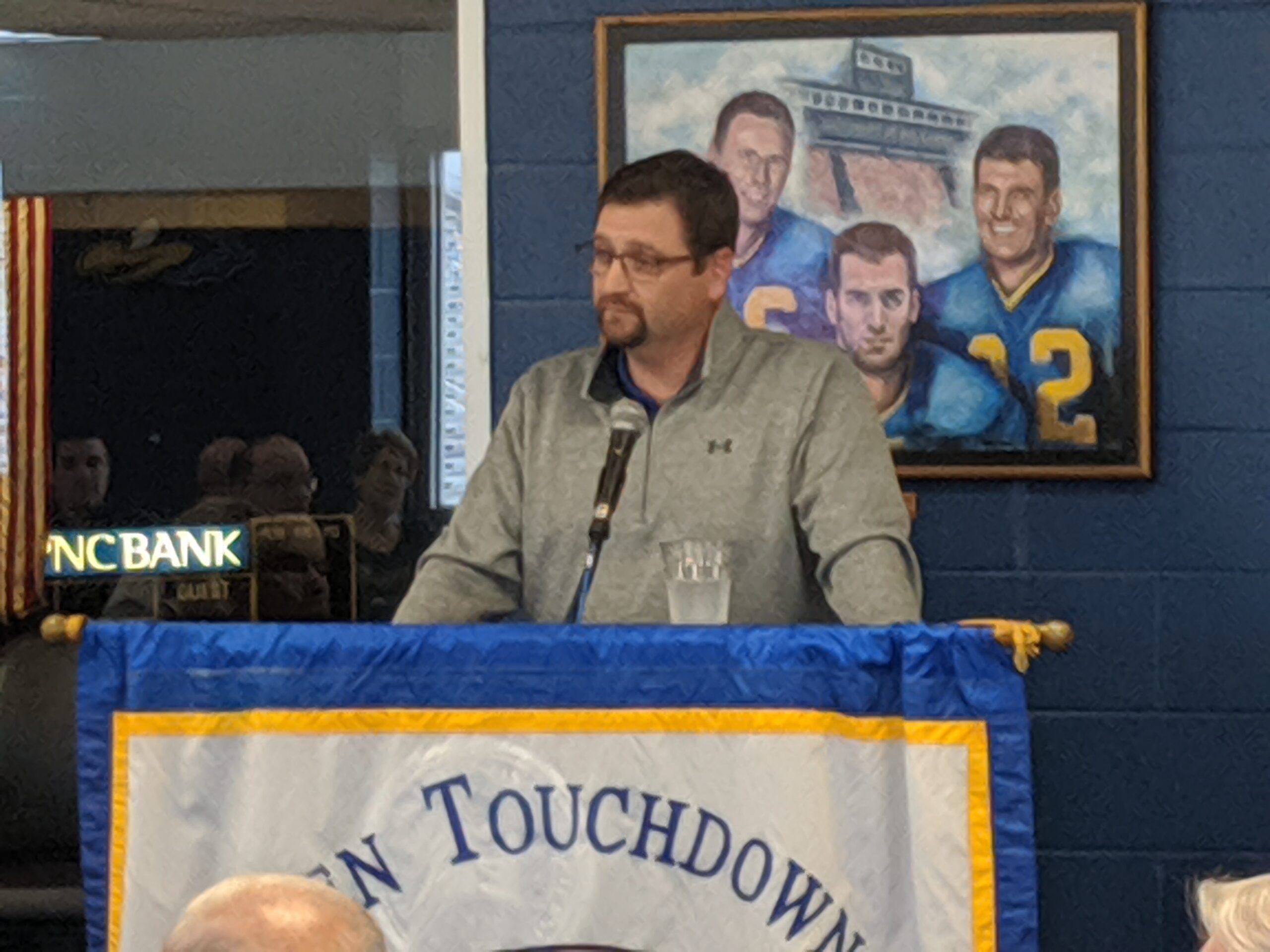 Our guests today were, Jared Ambrose, Offensive Coordinator for Blue Hen Football, Martin Ingelsby, Men's Basketball Head Coach, and Bob Clark, Assoc. Head Coach for Women's Basketball.
Coach Ambrose provided a scouting report for the Towson Tigers, the team for whom he coached until this year. He also provided those in attendance with the starting QB on Saturday, not to be disclosed here.
Coaches Ingelsby and Clark gave us a rundown on each squad, and expectations are high for both. The season opens next week for both teams, with home games in the Bob Carpenter Center.
For those that signed up for the bus trip to Towson (SOLD OUT), the bus will leave from in front of the ice rink at 10:30 AM SHARP!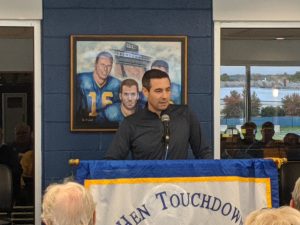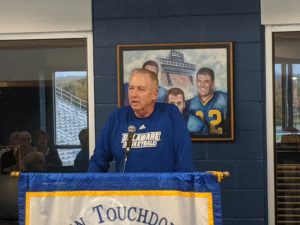 Next week's program on Friday, 11/1 will start at 11:40 AM in order to clear the room in preparation for the Women's home opener at 2:00 vs. Maine. Our speakers will be Greg Meyer, Asst. Coach/Tight Ends and a mystery guest to be disclosed during the week.

We look forward to hearing from Jared Ambrose, Offensive Coordinator and QB Coach.
Our special guests will be Natasha Adair and Martin Ingelsby, Womens and Mens head basketball coaches. The basketball season is fast approaching, expectations are high, and we will get a first-hand report from our coaches on what to look for this season.
Doors open at 11:15 in the Bob Carpenter Club. Presentation at Noon. Cost is $20 for member, $25 for non-member.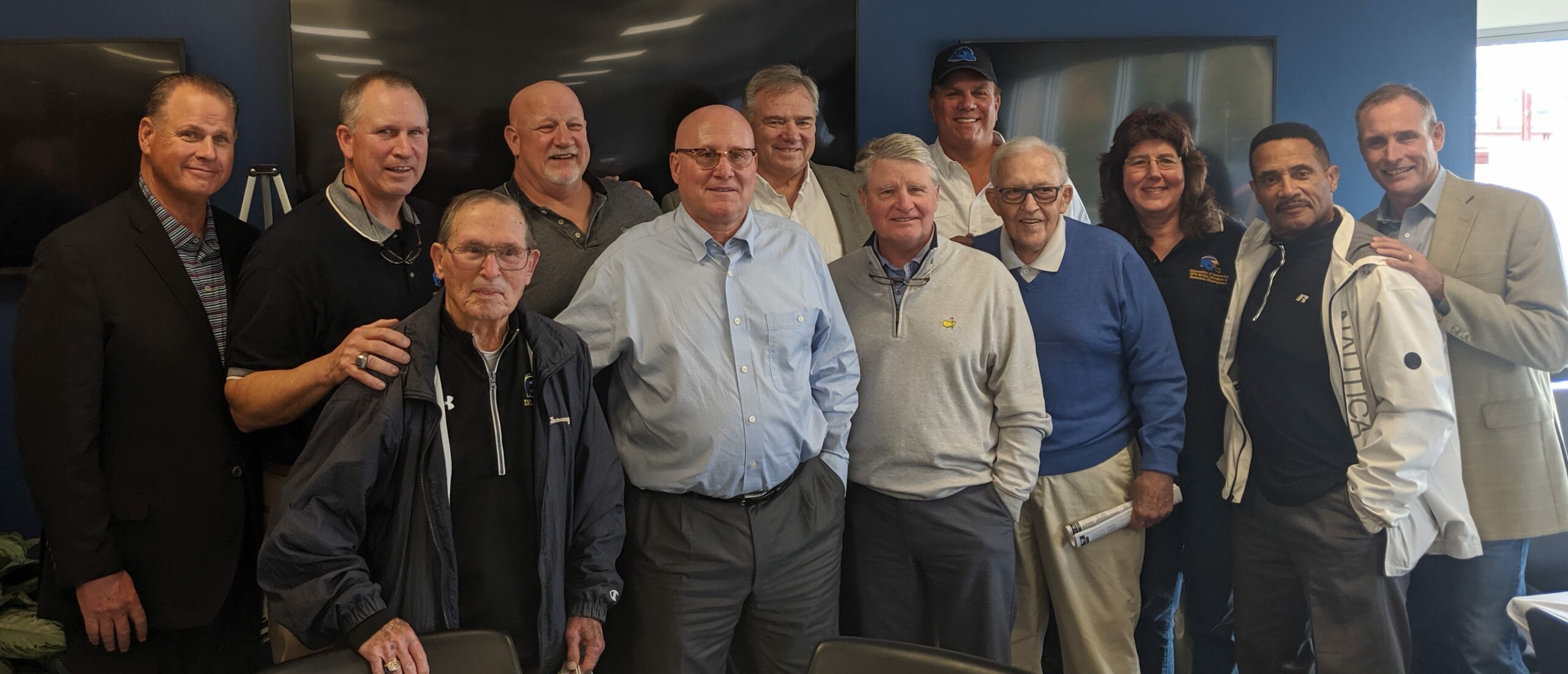 At today's luncheon meeting, with a packed house of over 70 in attendance at the Bob Carpenter Club, we heard from a great group of speakers. To start, Dave Legg, Assistant Coach/Linebackers & Special Teams, gave us a run down on what to expect from the Richmond Spiders. We also honored Nick Pritchard, our oustanding MVP punter, and Chuka Ezeuzoh representing the OL for their MVP performance vs. U. New Hampshire. Jake Roth, MVP placekicker was not able to attend.
Pictured here are returning members of the 1979 National Championship team. In attendance were coaches Ted Kempski and Jimmy Flynn, along with Chris Raymond, representing the Raymond family, and Bill Maley, representing his father, Defensive Coordinator of the same name.
Players in attendance were: Jim Brandemarte, Brandt Kennedy, David Kindell, Herb Beck, organizer Bob Lundquist, Randy Moccia, Mike Bachman, and team manager, Nellie Forwood. The stories they told of the comeback wins, including the "Youngstown Shootout" were a blast to hear. What was the motivation for that successful season, was asked? The answer: The narrow one point loss in the championship in 1978, the quiet yet forceful leadership of future NFL QB Scott Brunner, and the unselfishness of playing for each other as equals.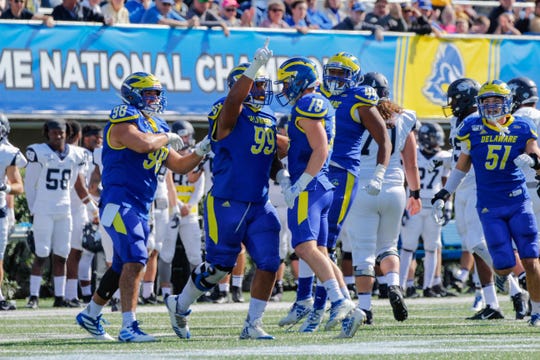 Doors open at 11:15 AM, program starts at noon. Speakers are Coach Dave Legg and special guests, members of the 1979 National Championship team. We will honor our MVP's from the UNH win: the entire Offensive Line, our Special Teams kickers, and Cam Kitchen from the Defensive Line.