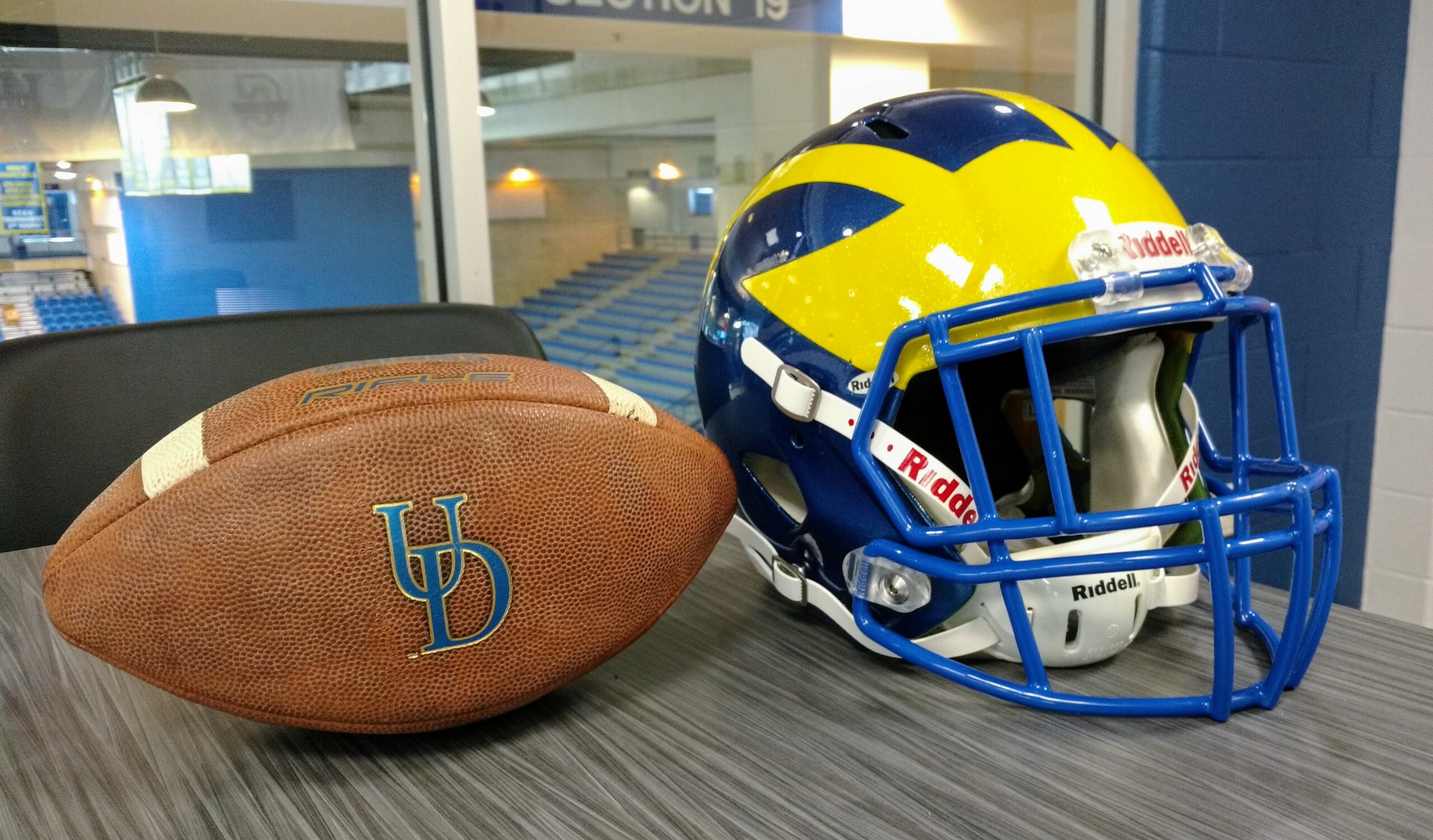 Describing tight ends Bryce DeMaille, Braden Brose, and Luke
Frederick as a three-headed monster, position Coach Garrett
Smith took time to explain a tight end's role in Ryan Carty's
offense. Combining power needed to block 280 pound defensive
ends and the skill to run good pass routes, Coach Smith said he
was fortunate to have players with great ability to do both. A
former QB at Louisiana Monroe, Smith was hired by Coach Carty
at Sam Houston State after a brief stint at his alma mater. When
Carty called him to travel north to join the new Delaware staff,
Garrett jumped at the chance (although he is still getting used to
the colder weather. He described the off week as a "get better
week", developing younger players and hitting the recruiting trail.
Coach Smith is responsible for recruiting northern Virginia and
Texas (where he can have the opportunity to warm up!).
Have you ever complained about doing laundry? Not Alec
Schwartz, the Head Football Equipment Manager, who washes 100
"loops" (devices to hold each player and coach's dirty laundry)
daily. He and his assistant and 16 student interns do laundry
from 6 am well into the afternoon and at times later. But that's
only the tip of the iceberg.
They are responsible for:
1. Ordering all the gear and equipment from Adidas in the off-
season.
2. Fitting helmets and shoulder pads on the first day of pre-
season.
3. Prepping new footballs (16 steps) for practice and games by
washing and applying shaving cream, lotions and "mud" to
get the balls ready.
4. Reporting at 6 am each day to set up the fields with
equipment for the daily 8 am practices.
5. Starting on Tuesdays to prep for gamedays by packing large
trunks with additional clothing and equipment, checking the
Coach's com system, preparing travel bags for each player
and coach for away games, and passing out uniforms on
Fridays.
6. Repairing broken equipment and torn uniforms.
But wait, there's more! But I'm too exhausted to continue! I did
not even describe all the work done on gamedays. Kudos to Alec
and his staff for the seven day per week work schedule to provide
for the team's every need. We certainly now realize and
appreciate the efforts that goes on beyond the scenes. (Reported by Mark Werrell)