The Club heard from Associate Head Coach and Offensive Line Coach Bryan Stinespring, pictured on top. Our guest speaker was women's soccer Coach Mike Barroqueiro, pictured above.
Coach Stinespring discussed the challenges of having different OL combinations each week, due to player injuries. However, his linemen are getting healthier as we are moving forward. He also discussed how tight the competition is in the CAA. The typical score difference is seven points in conference games. That scoring margin can be the result of only one play.

Barroqueiro is pleased with the efforts of his squad, which is the youngest player group in the CAA, with great promise for the future. They currently stand at 1-2-1 in CAA play, with five games remaining in the team's push for the playoffs. Two key performers recently had season ending knee injuries, but are expected to return next season. The next home game is Thursday, October 21 vs. Towson. The team plays an exciting brand of high energy soccer.
Our next meeting at the Newark Country Club is Friday, October 22 with our guest coach being Defensive Coordinator, Manny Rojas. Our guest speaker will be all-time, second leading tackler, Ralph DeAngelis. Ralph's squads competed in the playoffs in three of his four seasons, under Hall of Fame Coach, Tubby Raymond. Food service starts at 11:15, with the program starting at noon. Members $25, nonmembers $30.
The coach that spoke to the group was Wide Reciever Coach, Alex Wood. Coach Wood gave us a good rundown on the athletes in his group, and a look ahead to our game at Rhode Island.
Our guest speaker was Kevin Tresolini of the News Journal. Kevin related a stories from his youth, going to Lehigh games vs. UD, onto his time a student sports writer for The Review at UD. Kevin's all time favorite game was the 1977 contest against undefeated and bowl bound Colgate.
We also heard a review of the very active weekend sports schedule from Brendan Thomas, Director of Communications.
Our next meeting at the Newark Country Club is Thursday, 10/14 prior to the game at Stoney Brook. Our speakers will be a Offensive Line Coach Brian Stinespring, and Mike Barroqueiro, the dynamic women's soccer coach.
The day before the UD victory over Albany, the Touchdown Club met at the Newark Countery Club. Greg Meyer, Assistant Coach for running backs, expressed his pleasure with the entire RB roster. He also provided a rundown of the Great Danes.
Our guest speakers were Chris Locke and Scott Day from the Unlocke the Light Foundation. Chris gave a moving presentaion on the loss of his son, Sean Locke to the effects of depression, and the difficulty in recognizing the symptoms, even in those to whom you are very close. Scott also filled us in on the thousands of visits to Sean's House, the hundreds that have been counseled, and the dozens of suicides that have been prevented by the Foundation.
More info here: https://www.unlockethelight.com/
Donations to the Foundation are greatly appreciated.
Our next meeting at the Newark Country Club is Thursday 10/7/2021, with Wide Reciever Coach Alex Wood.
Food served at 11:15. Meeting at 12:00.
On to Rhode Island. Go Hens!
Our guest speakers were, Bill Polin, Tight Ends Coach and Recruiting coordinator, and Denise Thompson, Assoc. AD for communications.
Bill gave us a brief review of the Blue Hen's win over Saint Francis, as well a look at this week's game at Rutgers. His review of recruiting gave the group a picture of the challenges COVID created for our staff in 2020. Some of our most recent signing class had not met our coaches in person until they had arrived on campus this last summer.
Denise Thompson reminded the group we have not played Rutgers since 1973 and that we have 18 New Jersey high school players on our roster that are looking forward to the game.
Before and after this week's lunch, our members were treated to a tour of the new Whitney Athletic
Center. The Club's good friend, Jerry Oravitz, graciously conducted the tours. The Blue Hen Touchdown Club was one of 600 plus organizations and individuals that donated to building this "game changing" facility for our Fightin' Blue Hens football program and other UD student-athletes.
Next Lunch; Friday, October 1st
Guest Coach: Greg Meyer, running backs
Guest Speaker: Chris Locke and Scott Day of SL24 Unlocke the Light Foundation
Location … Newark Country Club
Time: Food Service 11:15 AM, Program at Noon

Defensive Line Coach Levern Belin gave a spirited presentation, with an outlook on the St. Francis Red Flash personel, as well as a demonstration of the energy, effort and yes, love, that he brings to his coaching efforts. More than one of the BHTC attendees were ready to run through a wall for the coach!
Coach Stewart described in detail the planning and resources that went into the new weight room in the Whitney Athletic Center. In the planning and execution of the facility, Chris got every feature that he asked for. There are electric and ethernet at each weight rack with 3D cameras , which allows for measurement and tracking of all movement for analyical study. Force plates measure efficiency of effort.
President John Dollmeyer reminded members that all meetings this year will be at the Newark Country Club. The next meeting is Wednesday, 9/15/2021. Next week we have tight ends coach Bill Polin as our guest coach. Bill is also the staff's recruiting coordinator and normally gives us an update of the program's current status in that area. We are not having a guest speaker that day because we have coordinated tours of the Whitney Athletic Center for our membership, before and after the luncheon.
Over 80 members, guests, player parents and former players were in attendance to hear Athletic Director Chrissi Rawak, Head Coach Danny Rocco and Offensive Coordinator Jared Ambrose.
Chrissi briefly discussed Phase 2 of the athletic facility upgrades, to include updating Delaware Fieldhouse and make it the football "home". We expect a more formal announcement later this year.
Coach Rocco reported on the depth of talent at each position, and the experience of having everybody back from the successful and unique spring season.
Coach Ambrose reviewed the QB position and the solid competition behind Nolan Henderson. Nolan is an elite QB that complted over 70% of passes. He further commented on the entire squad's excitement when Anthony Paoletti comes in for a play.
A question was asked from our group about the new electronic ticketing process. Deputy A.D. Jordan Skolnick responded that if the process proves difficult, fans can call the ticket office and they will print the tickets for you.
The next meeting will again be at the Newark Country Club on 9/10/2021, prior to the St. Francis U. contest.
Our first meeting is Friday August 27th at the NEWARK COUNTRY CLUB, 300 W. Main Street in Newark.
Our speaker is Head Coach, Danny Rocco. As usual, doors open at 11:00, food is served at 11:15, program starts at nnon.
This change, for at least the first four meetings, is due to the inability of having food served to us at the BOB. We will hope to return to campus as soon as we can. However, the staff at the country club has been extremely accommodative to us on short notice, and for this, we thank them.
We expect there to be the availability of a cash bar during the meeting. Depending upon any changes from the CDC and the State of Delaware, facemasks will be optional for those that are fully vaccinated.
Also, due to rising prices everywhere, the cost of entry is now $25 for members and $30 for guests. This may be temporary, dependent upon circumstances when we return to the BOB.
Also note a change in date of our Rutgers week meeting to Wednesday, September 15th.
Please communicate these changes with your fellow club members.
It has been a long time since we have all been together, but plans are moving forward!
We are unsure of details at this time, and it will be dependent upon UD approval, but Thursday, September 2nd would be our first post-pandemic meeting, prior to the away game with Maine.
Away bus trips are also in the "works", with a possible 2 night trip to Maine, an overnight trip to Rhode Island, and day trips to Rutgers, Stony Brook and Richmond.
In the meantime, stay healthy, cheer on our Blues Hens during this Spring Season, and we hope to be together in September. Go Hens!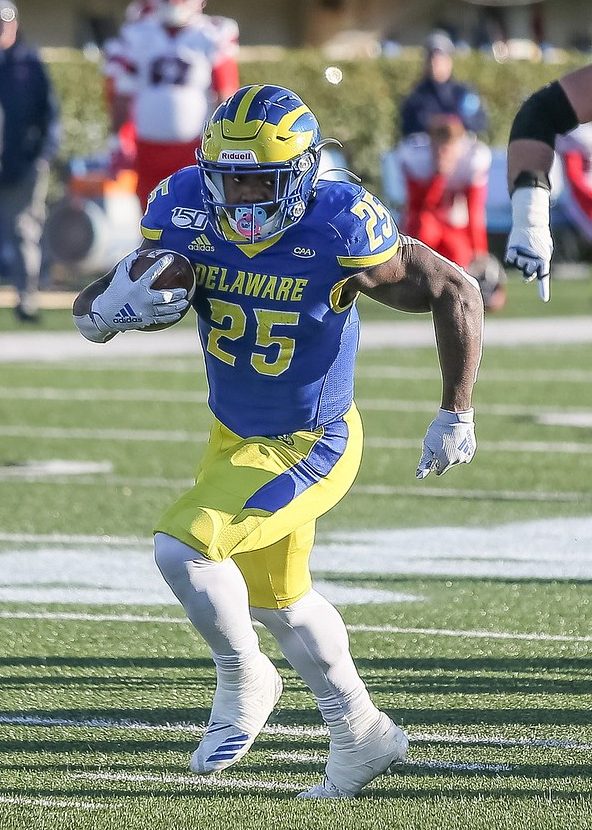 We have little doubt you have been following the decisions made by the university and the athletics department as they relate to the nations COVID-19 outbreak. The suspension of spring football practice and the spring game is disappointing to the whole Blue Hen family, but understandable. The BHTC Spring Game lunch has been cancelled as well.
Our members will see the BHTC bus trip information for the 2020 football season and the away game BHTC designated hotel information in their email inboxes soon. As always, we will post the clubs bus trip information to our website for non-members after our members have had the opportunity to purchase their bus seats,.
To become a BHTC member and guarantee your bus seat or receive the discounted hotel room rates we secure for the Blue Hen away games, join or renew a BHTC membership at this website. BHTC membership dues come with many benefits, but it is also how we pay for the BHTC Senior Banquet that honors the commitment our student-athletes have made to Delaware football during their careers.
Be well, be careful and be ready for the return of Delaware football!! GoHens!!!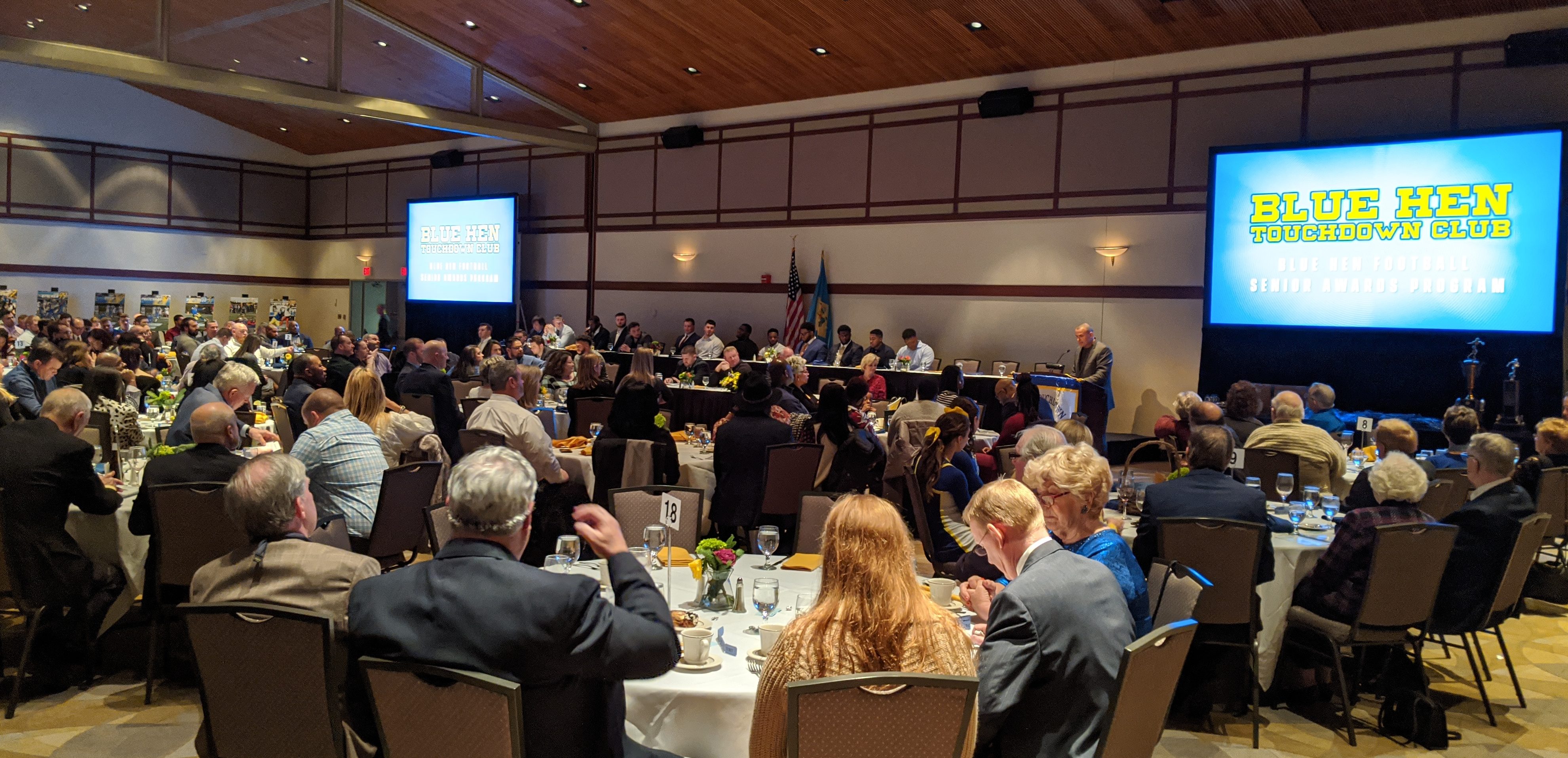 The Club had it's annual Awards Banquet for graduating senior team members on Sunday, January 26, 2020. Following a cocktail hour and buffet dinner, remarks were made by Club President, John Dollmeyer, Deputy Athletic Director, Jordan Skolnick, and our Head Coach, Danny Rocco. In addition to the senior team members, the entire team was once again invited.
The following awards were presented:
Outstanding Offensive Player – Pat Kehoe, QB
Outstanding Defensive Player – Cam Kitchen, DT
Outstanding Special Teams Player – Nick Pritchard, P
Outstanding Lineman – Mario Farinella, OL
Winnie Mayer Outstanding End – Owen Tyler, TE
Unsung Hero – Brian Dennis, DB and Jake Roth, K
Newark Elks Scholar-Athlete – Brent Reed, TE
Taylor Memorial Team MVP – Pat Kehoe, QB
Note: At the season final lunch BHTC members vote for their choice of each of the first 6 awards.
All awards are career awards, not a single season award.
Newark Elks Scholar-Athlete is awarded to the highest GPA senior.
As has been the case for 72 years, the Taylor Memorial Team MVP is selected by the Taylor family.
Congratulations to our seniors for their efforts, and thank you to all who attended and contribute to the Club's success.