NEXT STOP: Brookings, South Dakota vs. South Dakota State University, 12/03/2022 at 3:00
BHTC MVP's – St. Francis University – 11/26/2022
Offense – Chandler Harvin #8 / Wide Receiver
Defense – Amonte' Strothers #32 / Defensive Back
Special Teams – Marcus Yarns #21 / Running Back
NO BHTC Luncheons On Schedule
Next Event: Senior Awards Banquet – Date Not Determined
11/30/2022 WDSD 94.7 FM Coach's Show at La Casa Pasta 7:00 PM
When Ryan Carty was putting his staff together who could have
been a better choice for his Quarterbacks Coach than a young
man who started for four years in Carty's unique offense. Not
only did Sean Goldrich start but was prolific passing for over 7500
yards and rushing for 1100 yards while accounting for 71
touchdowns.
At New Hampshire Coach Goldrich told us that his first game
starting was Carty's first calling plays for the Wildcats. Though he
was told the offense would be balanced, the first six plays of his
college career were all passes.
Upon graduation Goldrich played in the IFL for two seasons
before returning to New England to coach at the division three
level and then joining the Yale staff as the wide receivers coach.
But Coach Carty's offense led him to Delaware to coach the
position that he played in college.
When asked about quarterbacks calling audibles at the line of the
scrimmage, Coach Goldrich stated that the "play is the play". But
the QB does have some leeway to make slight formation
adjustments.
In his presentation, Coach Goldrich showed why he was the right
choice to mentor the quarterbacks on the Delaware squad.
Photo and narrative by Mark Werrell
Join us this week, as we hear from two Blue Hen Legends!
Next BHTC Luncheon
Thursday, November 17, 2022
Guest Coach: Andrew Pierce – Assistant Coach Running Backs
Guest Speaker: Scott Brunner – 1979 National Championship Quarterback
The Bob Carpenter Club – doors open: 11:15 am & program begins: Noon
members $25 / non-members $30
Register here:
https://securepayment.link/bluehentdclub/weekly-luncheon-reservation/
Imagine being a college football coach and doing such a "great"
job, that the school drops football. That's what happened to
Delaware Coach Terence Archer, Assistant Head Coach and
Wide Receivers coach, when he served at LaSalle. Landing on
his feet, Coach Archer told us about his experiences at Monmouth
and Sam Houston State before returning to be a part of Ryan
Carty's staff. A New Jersey native, Coach Archer said his return
to the east coast was a no brainer as he has family here and his
mother-in-law is a UD alum.
He also had a reunion of sorts last Saturday as his collegiate
playing days were at Monmouth under Coach Callahan.
Explaining his desire to exploit some of the issues Monmouth was
having on defense, Coach Archer was looking forward to pushing
the offense against the Hawks and his former coach. It appears
that he and the offensive staff was successful!
He let us know that the captains spoke to the team after the Elon
loss stressing that the team needs to bring their own energy to an
away game. I have a feeling this "flatness" will not travel to
Villanova!
Asking for only easy questions, Delaware Hall of Fame inductee
and former star defensive back for the Hens, Sidney Haugabrook (pictured above)
told us about his experience as a southerner (he's from Atlanta)
playing football in the northeast. The biggest obstacle was that
his northern teammates had issues understanding his "accent"
while yelling instructions on the field! After a career in the CFL
and the Arena Football League, Sidney is now a sales rep for
Milwaukee Tools and keeps close contact with UD with the
Touchdown Club's own Barbara Owens.
Stating that her experience at Penn State pushed her to be a
better coach, Head women's basketball coach Sarah Jenkins
gave the Club a preview of the women's basketball season.
Coming home to UD after Coach Adair left to go to Arizona State
following the team's 2021-22 conference championship, Coach
Jenkins let us know that she wants to stay here for the rest of her
life and implored anyone in the audience who knows our AD
Chrissi Rawak to "talk to her" to make her dream a reality!
This year's team is learning to play together as two first year
students and five transfers join a core of six returning players.
She won't guarantee that they will shoot well but the team is really
good at doing cartwheels! Not sure if any cartwheels were
performed but Coach Jenkins debut game as head coach was
eminently successful as they scored a victory over Longwood 82-
62. It appears that the women can shoot the ball as they hit 49%
from the field including 46% from beyond the arc and 81% from
the free throw line.
Head coach for the men's basketball team, Martin Ingelsby
previewed his team of 10 returning players, 3 transfers and 3
freshmen. The NCAA tournament taste last year has the team
working to continually improve toward February and March with
sights on a return to the Big Dance. When asked about the
transfer portal, Coach Ingelsby said he probably wasted too much
time on trying to convince those entering the portal to remain at
UD. The team has benefited from incoming transfers and he and
his staff will continue to attack the portal aggressively and "recruit
like hell". The team had a successful start this past Monday with
a home victory over Wilmington University.

Here are the Monmouth MVP's, and details on this Friday's meeting:
BHTC MVP's – Monmouth University – 11/05/2022
Offense – Nolan Henderson #2 / Quarterback
Defense – Chase McGowan #12 / Defensive Line
Special Teams – Dillon Trainer #44 / Linebacker
Next BHTC Luncheon
Friday, November 11, 2022
Guest Coach: Sean Goldrich – Assistant Coach Quarterbacks
Guest Speaker: Ben DeLuca – Head Coach, Men's Lacrosse
The Bob Carpenter Club – doors open: 11:15 am & program begins: Noon
members $25 / non-members $30
Make your reservation here:
https://securepayment.link/bluehentdclub/weekly-luncheon-reservation/


Photos, Courtesy of Mark Campbell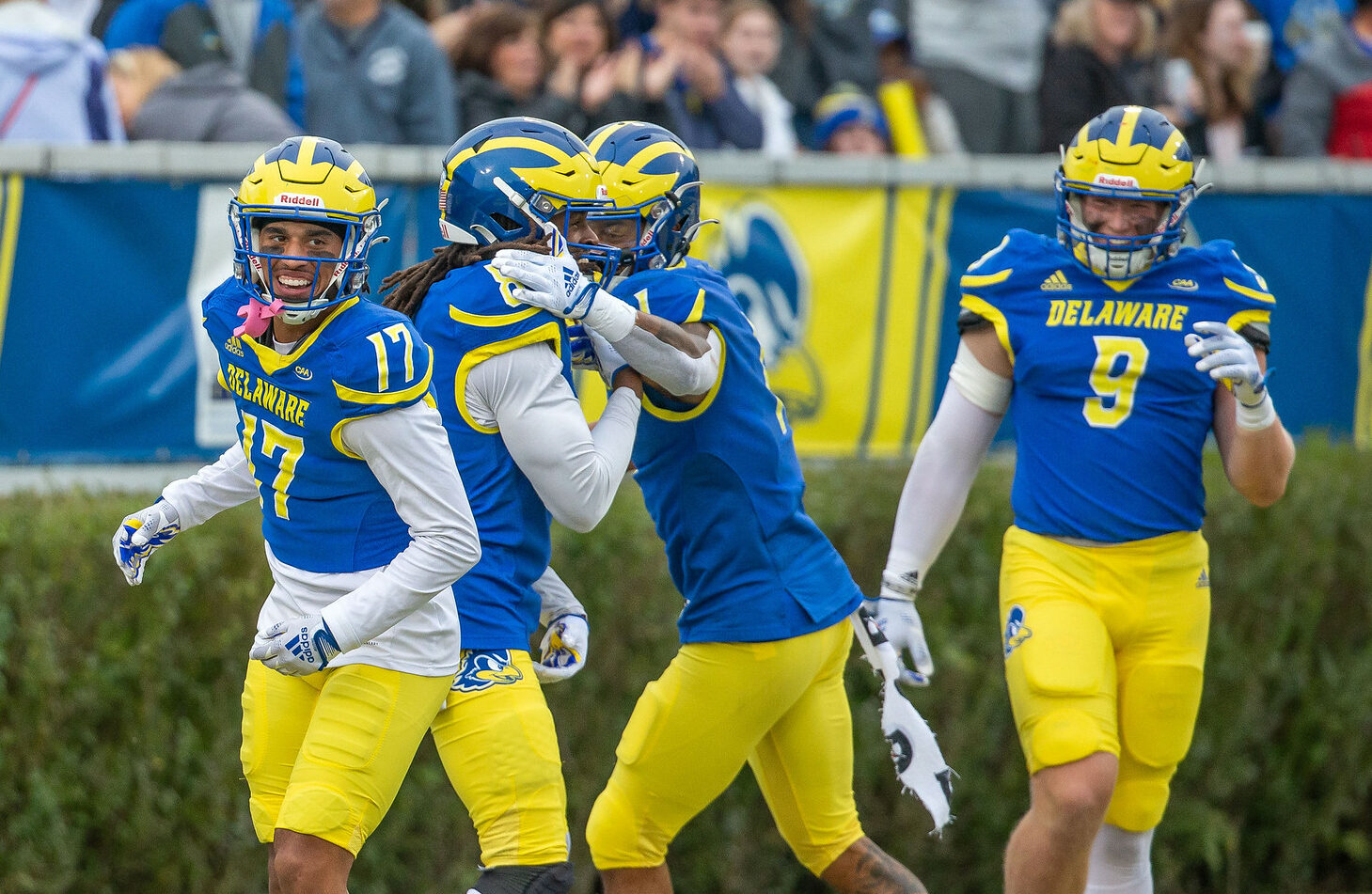 The Blue Hens will be back in the friendly confines of Delaware Stadium on Saturday, looking to go 5-0 at home.
Full details of our lunch below. Asst. Head Coach Terrence Archer, a former player and coach at Monmouth University will give us the information on the Hawks' high powered offense. and we will hear from our Head Basketball Coaches:
Next BHTC Luncheon Friday, November 4, 2022
Guest Coach: Terrence Archer, Assistant Head Coach Head Coach/ Wide Receivers/ Pass game Coordinator
Guest Speakers: Sarah Jenkins and Martin Ingelsby, Women's and Men's Head Basketball Coaches
The Bob Carpenter Club – Doors open: 11:00 am, Food served: 11:15 Program begins: Noon
Members $25 / Non-members $30
Register here:
As a bicycle gets older, it doesn't work as well and nor does it ride
as smoothly as it did when it was new. Coach Chris Rogers, UD's
offensive line coach and run game coordinator, used this
metaphor to explain his ability to do a split which he performed for
the team after UD was victorious over FBS Navy. He developed
this skill as a young man who was embarrassed by the flexibility
and athleticism of young women dancers in a dance class in
which he participated.
Rogers was the offensive line coach at Sam Houston State when
Coach Carty asked him to join the Delaware staff serving in the
same position. He explained the reasons for some of the
changes made to continually improve UD's offensive line play.
He also talked some about the type of players that he looks for,
long, big and athletic.
Rumors are flying that Coach Rogers will again perform a split
after Delaware defeats Villanova. We can only hope someone
films it and posts it to YouTube!
Our second speaker was St. Elizabeth High School graduate,
current UD student, and reporter for Hero Sports covering the
Colonial Athletic Association, the Patriot League and the NEC. A
lifelong UD fan, Dan Steenkamer, told the audience that the first
book read to him as a child (and his family in attendance
confirmed this!) was Return to Glory the story of Delaware
football's 2003 National Championship season published by the
News Journal. Now that is training fans from a young age!
Dan's sports journalistic endeavors are taking off as he broke the
story this year that Howard University would not be joining the
CAA and he is doing play by play for Delaware games for WVUD
91.3 FM. He offered his expertise on national polls at the FCS
level as well as how the CAA may be aligned after the addition of
North Carolina A&T and Campbell University to the football mix in
the CAA.
The Touchdown Club is very proud of "Delaware Dan" and hope
that his star continues to rise in the field of sports journalism.
(Dan Steenkamer pictured at top)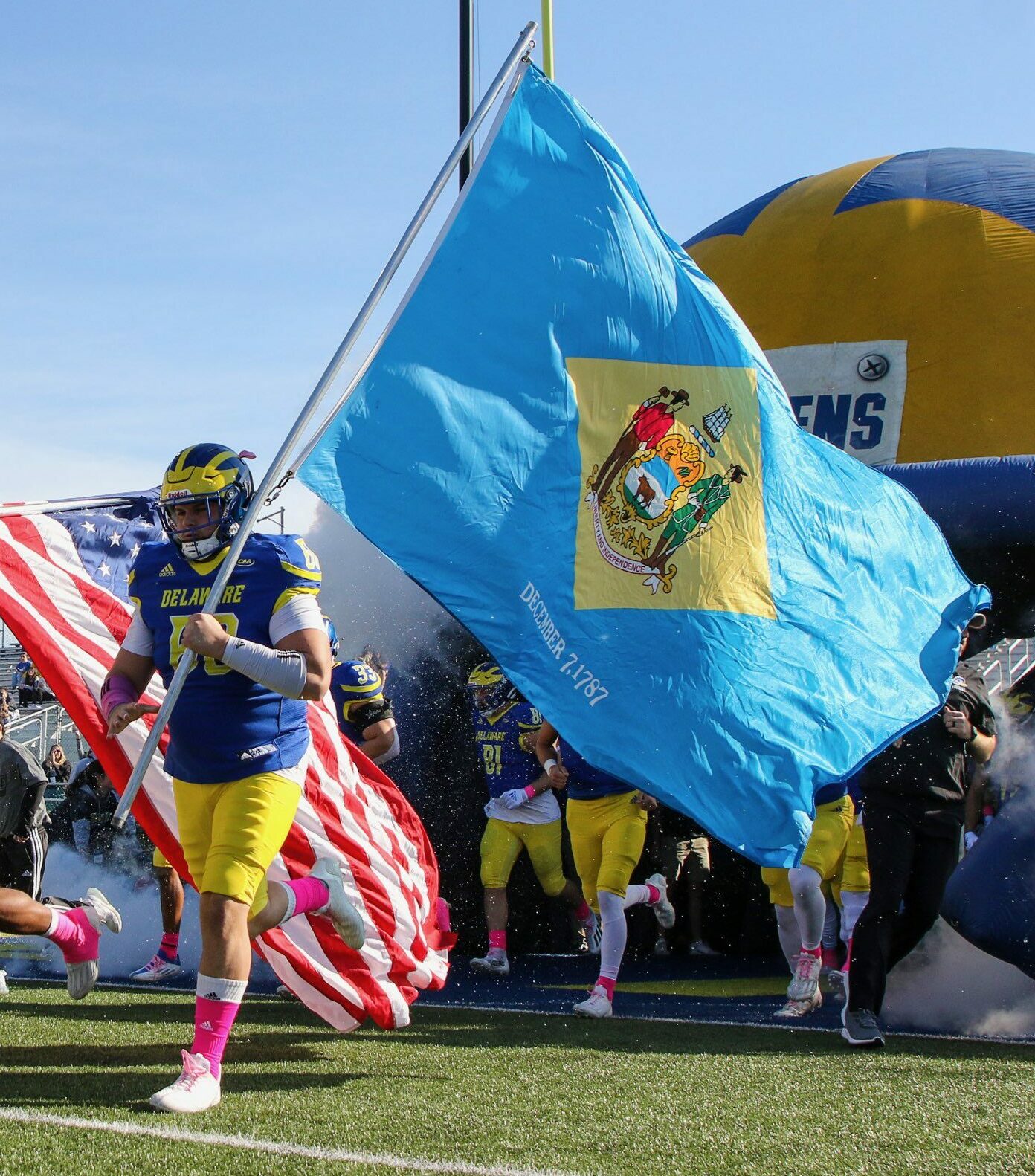 BHTC MVP's – Morgan State University – 10/22/2022
Offense – Brett Buckman #13 Wide Receiver (Pictured Below, Left)
Defense – Artis Hemmingway #91 / Defensive Line (Pictured Below, Right)
Special Teams – Jake Reed #68 / Long Snapper (Pictured Above)
Next BHTC Luncheon
Thursday, October 27, 2022
Guest Coach: Chris Rogers – Offensive Line
Guest Speaker: – Dan Steenkamer – HERO Sports Contributor/Journalist
The Bob Carpenter Club – Doors open: 11:00 am, Food served: 11:15 Program begins: Noon
Members $25 / Non-members $30
Register here: https://securepayment.link/bluehentdclub/weekly-luncheon-reservation/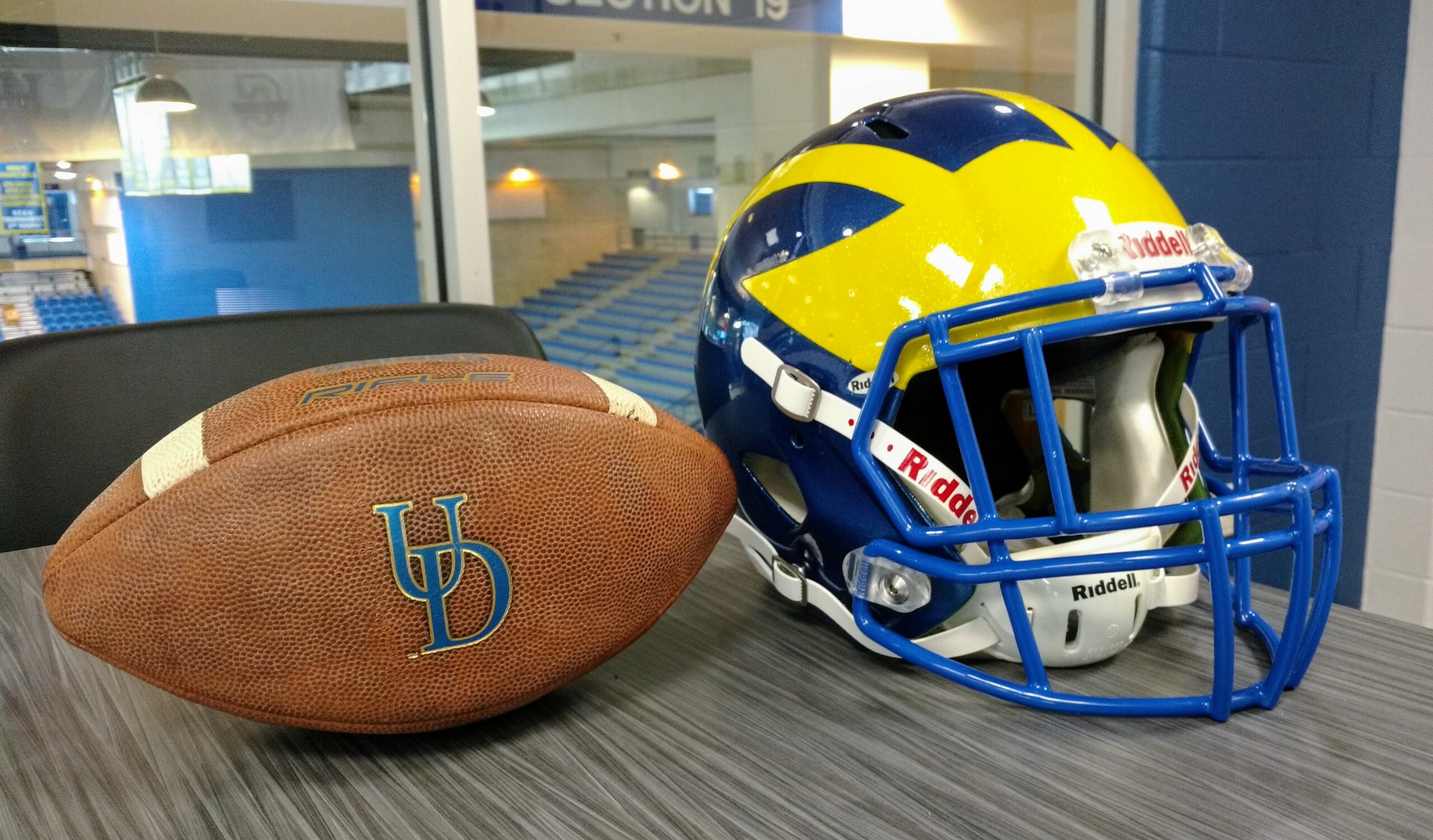 Describing tight ends Bryce DeMaille, Braden Brose, and Luke
Frederick as a three-headed monster, position Coach Garrett
Smith took time to explain a tight end's role in Ryan Carty's
offense. Combining power needed to block 280 pound defensive
ends and the skill to run good pass routes, Coach Smith said he
was fortunate to have players with great ability to do both. A
former QB at Louisiana Monroe, Smith was hired by Coach Carty
at Sam Houston State after a brief stint at his alma mater. When
Carty called him to travel north to join the new Delaware staff,
Garrett jumped at the chance (although he is still getting used to
the colder weather. He described the off week as a "get better
week", developing younger players and hitting the recruiting trail.
Coach Smith is responsible for recruiting northern Virginia and
Texas (where he can have the opportunity to warm up!).
Have you ever complained about doing laundry? Not Alec
Schwartz, the Head Football Equipment Manager, who washes 100
"loops" (devices to hold each player and coach's dirty laundry)
daily. He and his assistant and 16 student interns do laundry
from 6 am well into the afternoon and at times later. But that's
only the tip of the iceberg.
They are responsible for:
1. Ordering all the gear and equipment from Adidas in the off-
season.
2. Fitting helmets and shoulder pads on the first day of pre-
season.
3. Prepping new footballs (16 steps) for practice and games by
washing and applying shaving cream, lotions and "mud" to
get the balls ready.
4. Reporting at 6 am each day to set up the fields with
equipment for the daily 8 am practices.
5. Starting on Tuesdays to prep for gamedays by packing large
trunks with additional clothing and equipment, checking the
Coach's com system, preparing travel bags for each player
and coach for away games, and passing out uniforms on
Fridays.
6. Repairing broken equipment and torn uniforms.
But wait, there's more! But I'm too exhausted to continue! I did
not even describe all the work done on gamedays. Kudos to Alec
and his staff for the seven day per week work schedule to provide
for the team's every need. We certainly now realize and
appreciate the efforts that goes on beyond the scenes. (Reported by Mark Werrell)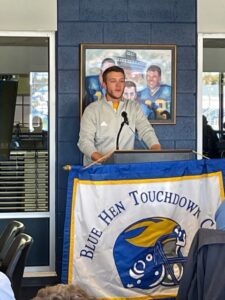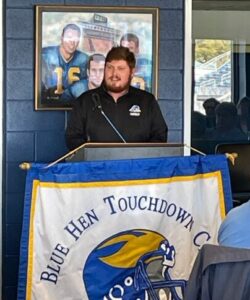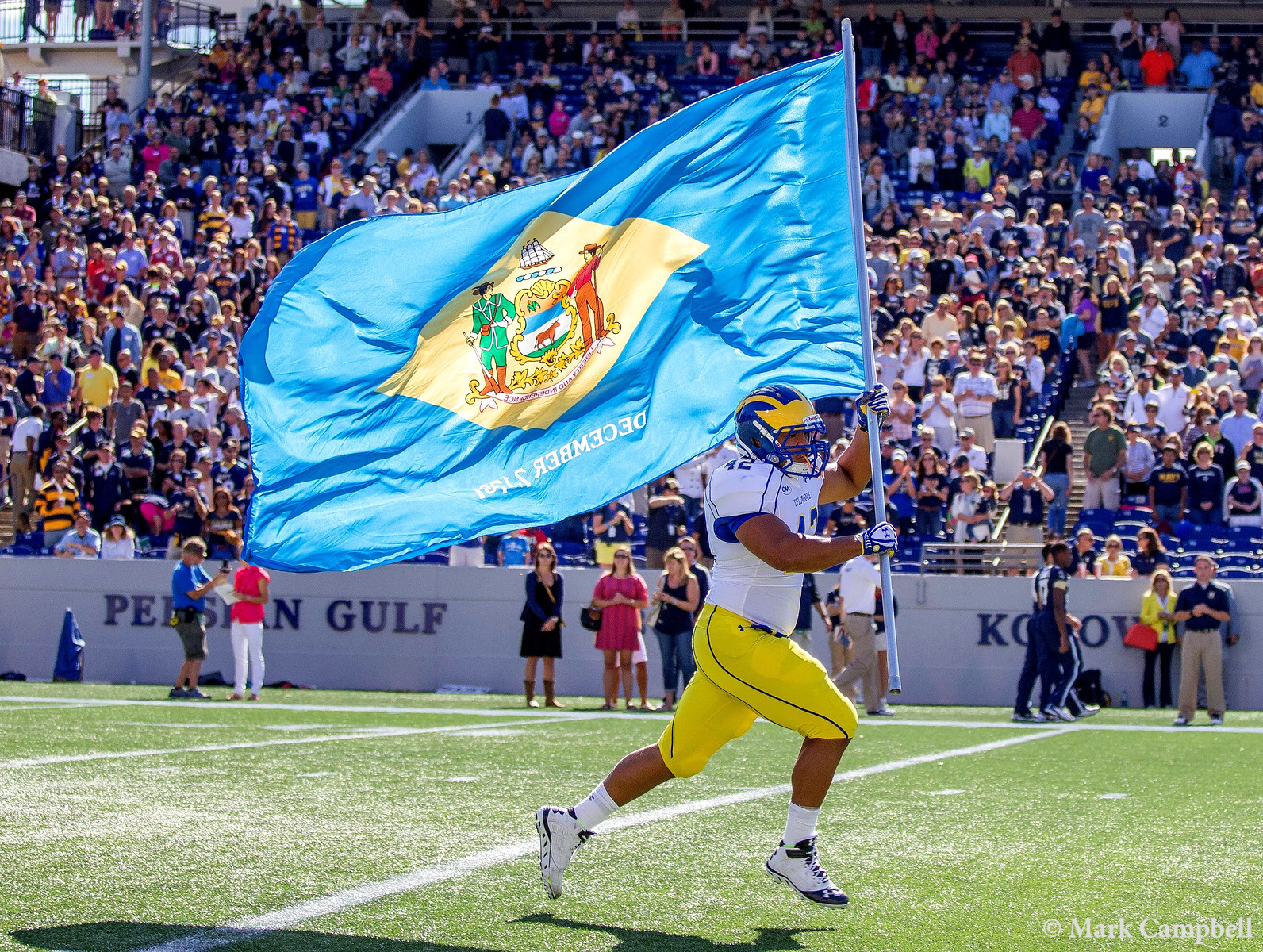 After a one week pause, the Team and the Club are back to it for the "stretch run"!
Join us this Friday, to talk Blue Hen Football and to hear from our coach and guest speakers:
Garrett Smith, Tight Ends Coach, came to us with Coach Carty by way of Sam Houston State.
Alec Schwartz, Head Football Equipment Manager
Both speakers are sure to be entertaining.
We will also honor our MVP's from the William & Mary game:
Blaise Sparks, Drew Nickles, Justis Henley
Save time and reserve and pay in advance for your lunch at our secure website here:
Members: $25 Non-Members: $30
As usual, we will meet in the Bob Carpenter Club at 11:00. Lunch served at 11:15, program at noon.
The Sad news:
Two loyal Blue Hens have passed in recent days. Former Club President and passionate fan and friend, Ken Schilling, and former player and coach, Bryan Bossard have gone to the Lord. Our thoughts are with Ken and Bryan and their families.