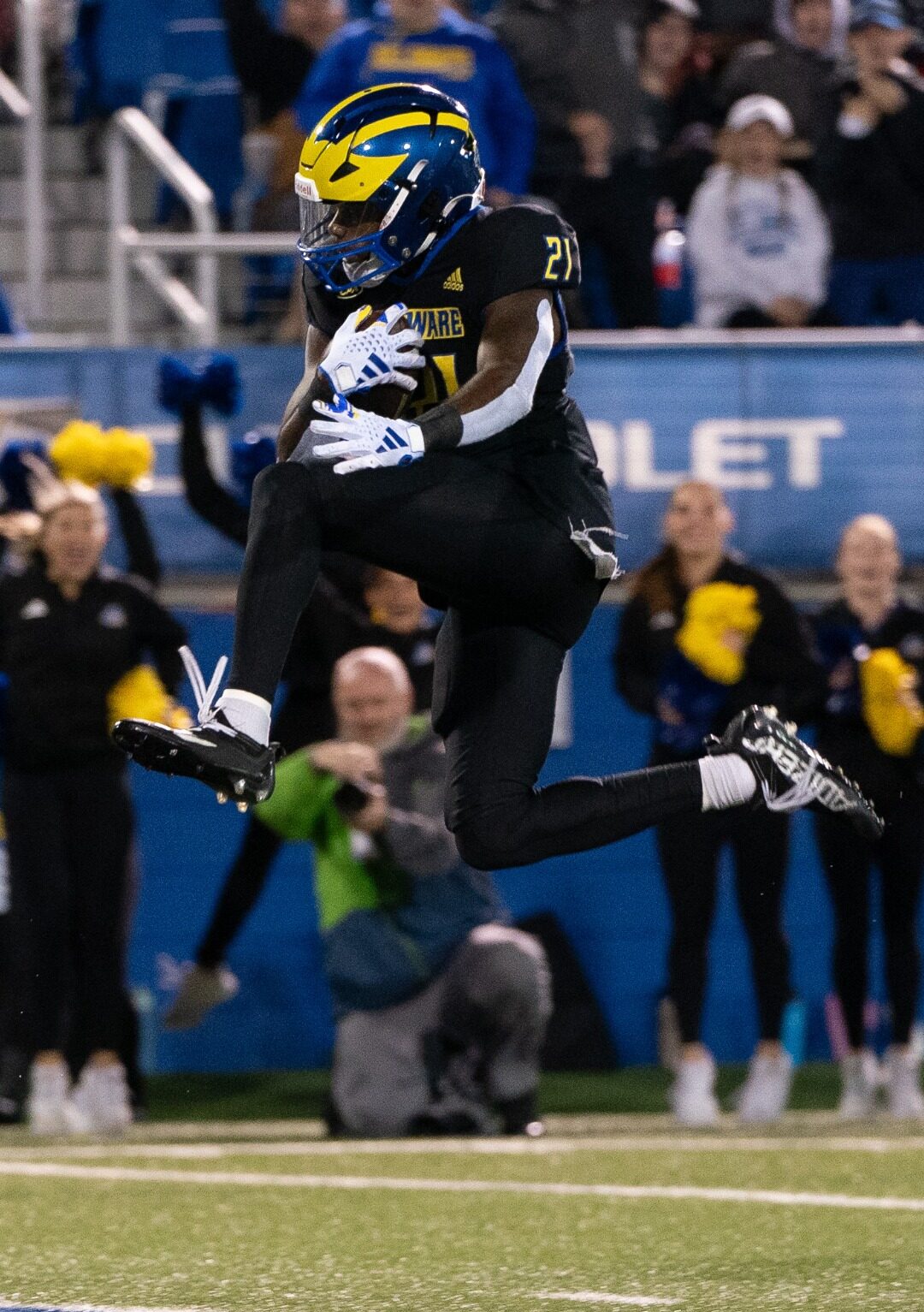 With the win on Saturday, and an OPEN DATE on the schedule, the BHTC will NOT meet this week. Let's savor the 3-1 start, and get together on October 6th.
Details here:
Offensive MVP: #14 Ryan O'Connor
Defensive MVP: #3 Alex Villas
Special Teams MVP: #58 TJ Latore
No Meeting this Week
Next Meeting: Friday, October 6th
Coach to speak: Garrett Smith, Assistant Coach / Tight Ends
Guest Speaker: Heidi Sarver, UD Marching Band Director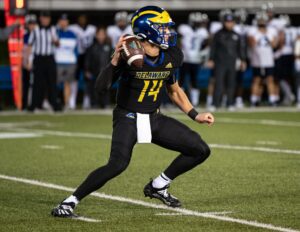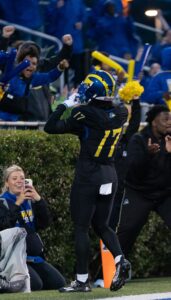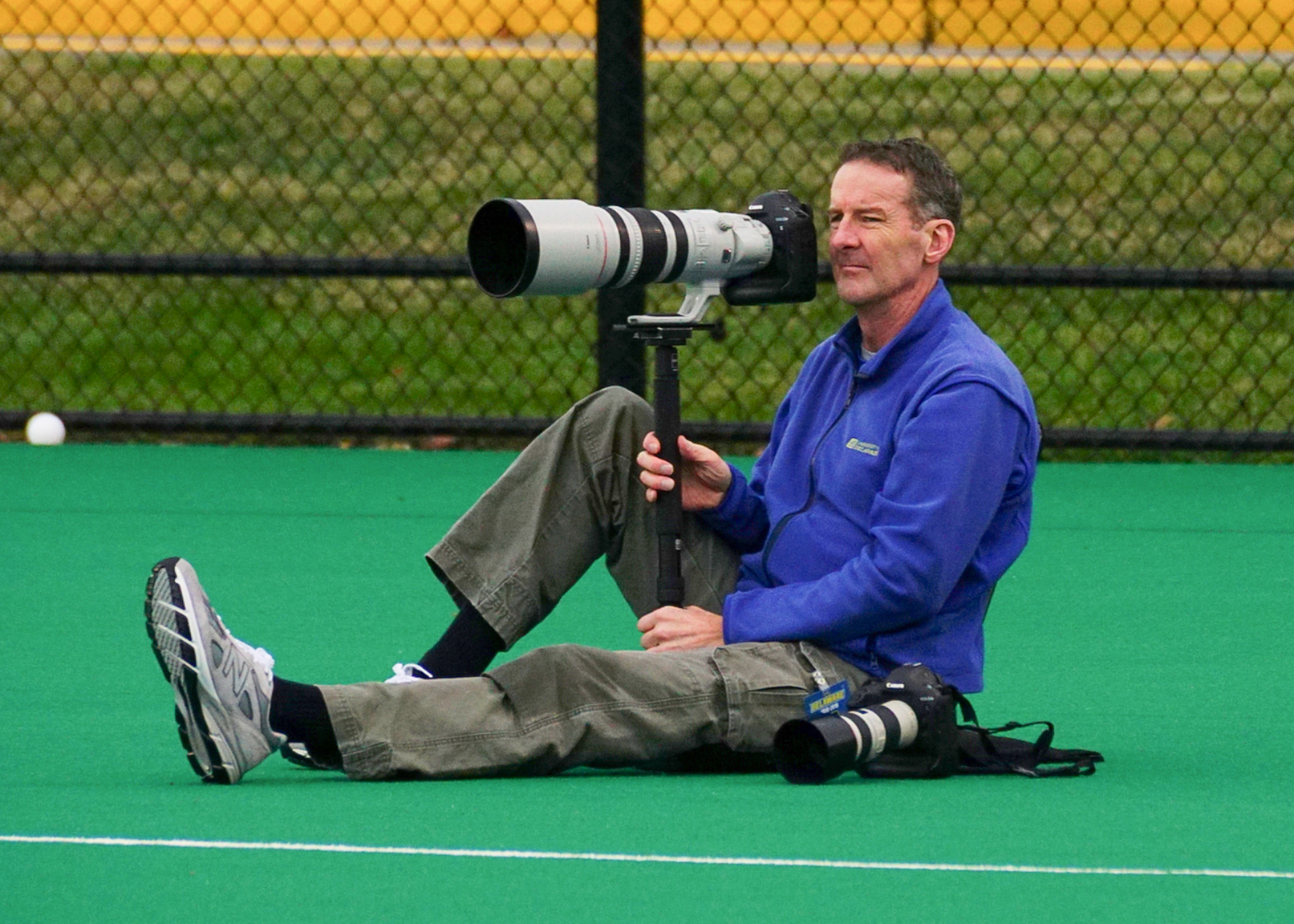 Before we get out our rain gear in preparation for our next game
at The Tub, let's take a quick look back and see what our lunch
speakers said last week.
Rocco Demeco
Linebackers and Ass't Special Teams Coach
Hired by Coach Carty in January 2023, Coach Demeco comes
from LIU where he spent a year coaching the linebackers and
served as the Special Teams Coordinator. Prior to his time on
Long Island he coached for 4 years at Winona State (Minnesota)
in the same capacity.
He jumped at the opportunity to join Ryan Carty's staff because
football is important and matters at Delaware.
His biggest adjustment to the Manny Rojas led defense is that the
defensive backs are the primary communicators. The linebackers
do set the front 6-7 but, overall, there is a lot of signaling and
talking prior to the offensive snap. Demeco said the personalities
in the linebacker room make this job easier and commented on
the leadership of Dillon Trainer as well as the sterling play of
transfer Jackson Taylor.
Mark Campbell
Retired UD Photographer
Going down memory lane with Mark, a BHTC member, through
his photos was a blast! From old pics of Blue Hens past to the
present day, Mark took us on a journey of all things UD football.
It was fascinating to hear how he was able to get credentials to
take pictures of Ravens games when Joe Flacco played in
Baltimore and his delight (although the press has to stay neutral!)
when Elena Delle Donne held "court" for UD women's basketball.
He gave us a primer on sports photography detailing the three
essentials of a good pic, Face, Ball, Action. Additionally better
photographs involve an out of focus background and a low shot
angle.
Capturing human emotion in a picture is the best approach
including celebration and defeat in one picture as well as tears of
joy. Of course, timing and luck make a successful photograph
too.
See Mark's presentation at this lonk: https://www.henshots.com/Football/2023/BHTD-Club-Presentation-9-15-23/
Left: Coach Rocco Demeco Right: Mark Campbell

Report by: Mark Werrell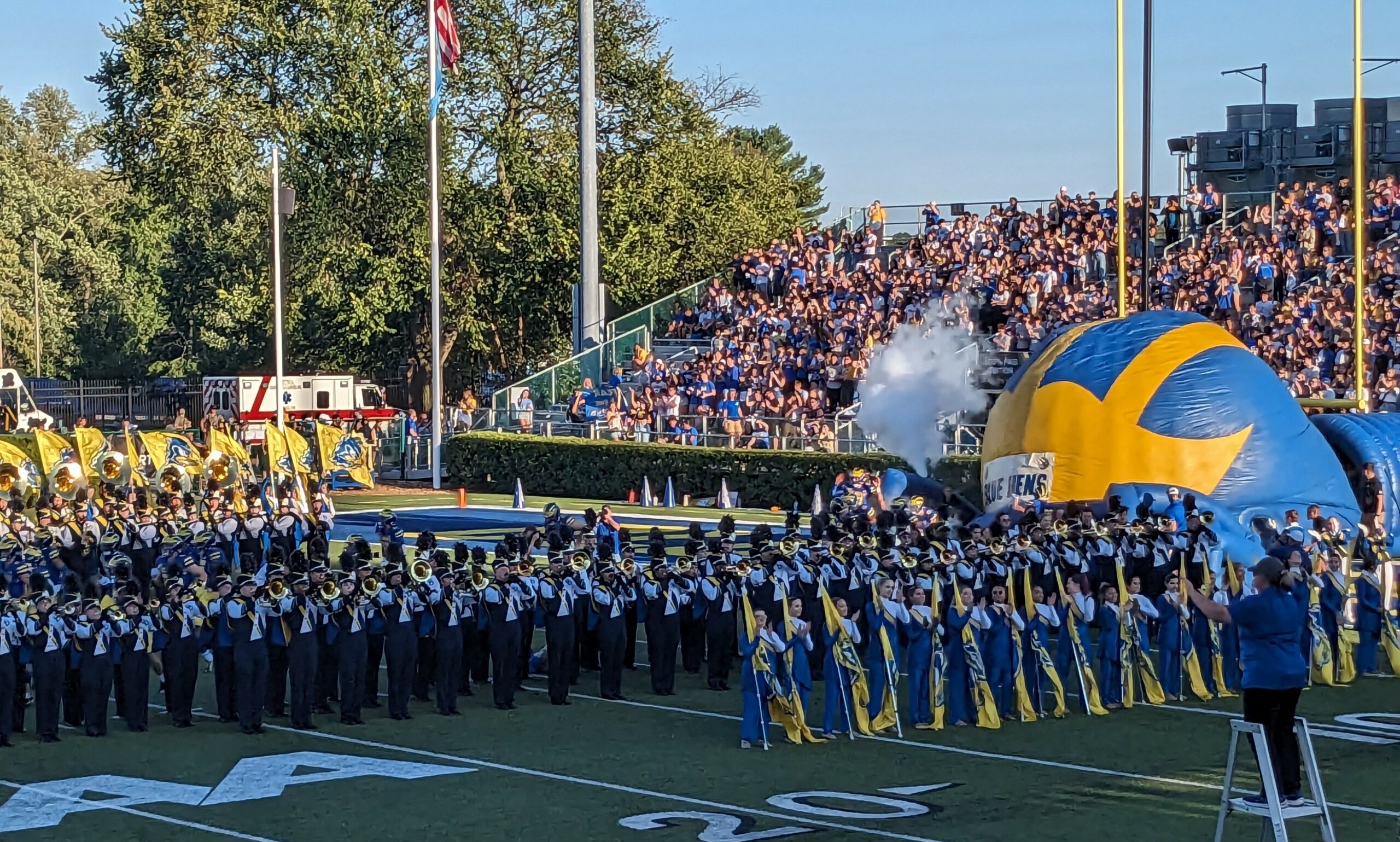 The Fighting Blue Hens took care of business vs. St. Francis, and now prepare for the most important game so far, the University of New Hampshire.
Come to the Club this week to hear from our multiple guests, and hopefully we can congratulate our Most Valuable Players, in person!
Details here:
Offensive MVP: #12 Kym Wimberly
Defensive MVP: #44 Dillon Trainer
Next Meeting; Friday, September 22, 2023 in the Bob Carpenter Club (Parking behind the BOB, between the soccer and softball fields).
Doors open at 11:00, Food served at 11:15, Program starts at Noon.
Coach to speak: Sean Goldrich, Assistant Coach / Quarterbacks
Guest Speakers:
Joe D'Antonio, CAA Commissioner
AND
Ralph D'Angelo, Outstanding Linebacker Under Head Coach Tubby Raymond
Register and pay for lunch at our secure payment site here: https://securepayment.link/bluehentdclub/weekly-luncheon-reservation/
GO HENS!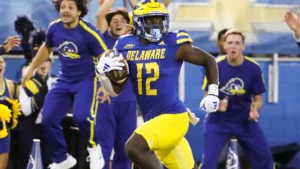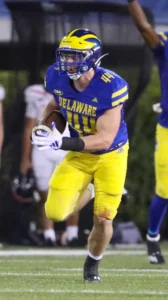 On Left: WR, Kym Wimberly, On Right: LB, Dillon Trainer,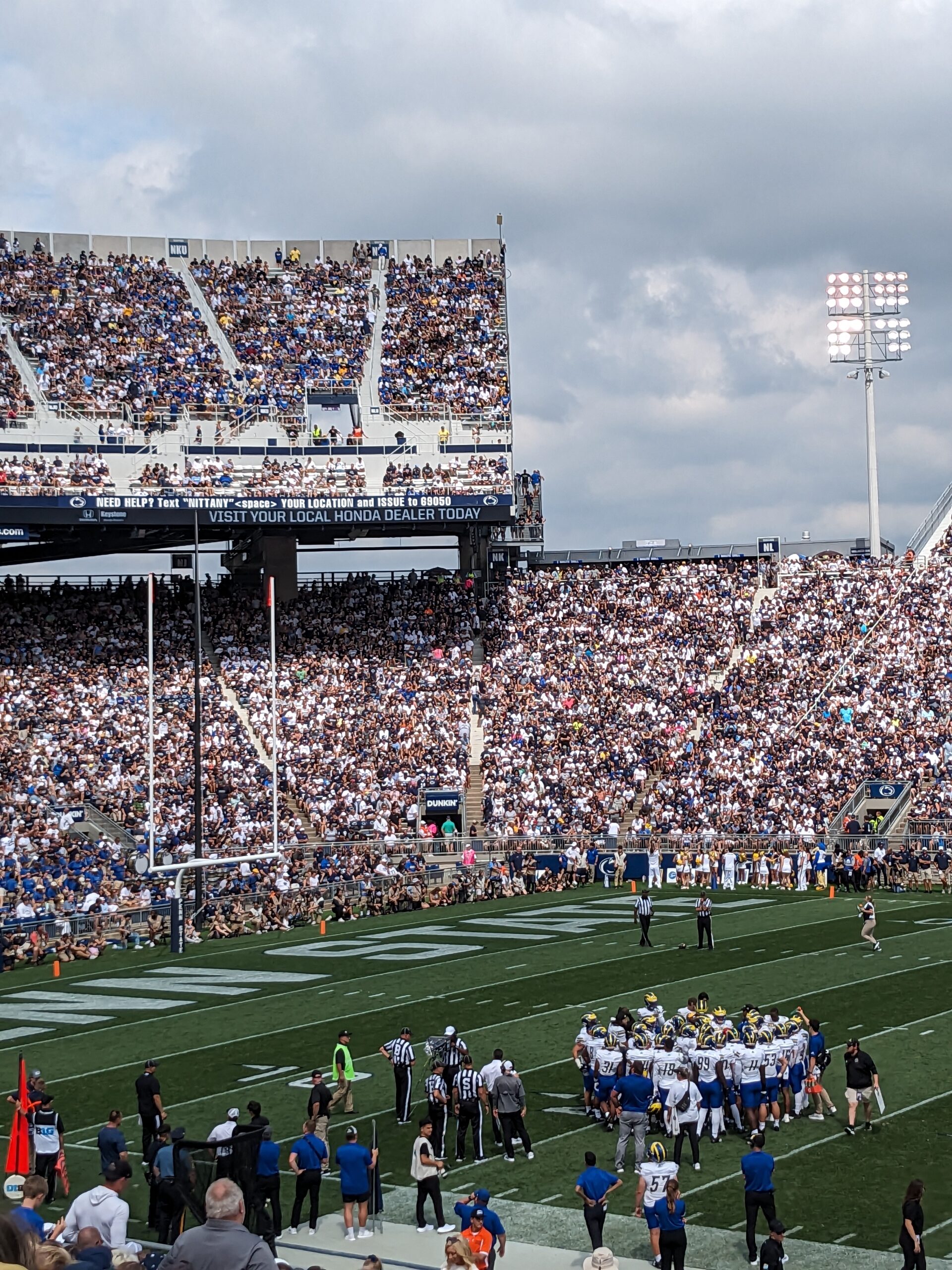 As we look forward to our first home game of the season on 9-16-
23, let's quickly look back at the speakers from our last lunch.
Dan Watson
Deputy AD, Sport Performance and Campus Recreation
Dan provided the attendees with a compelling talk about how
different parts of the Athletic Department work together to provide
the best possible experience for all student-athletes at the
University of Delaware.
As a former athletic trainer for the football team, Dan explained
how critical it is for all aspects of an athlete's care work together.
From nutrition and athletic training to medical care and strength
and conditioning, it is important that all groups are not pulling the
athletes in different directions. This cooperation even includes
analytics and psychology. Dan explained there are times when
the data from the Analytics team shows that an athlete may need
more work in real time and make suggestions to the coaches to
ensure he/she gets the additional work.
The Whitney Athletic Center allows the groups to accomplish
such synergy because they are all imbedded at the WAC.
Additionally, Dan commented on being anti-solo inviting
cooperation and research from other parts of the University. For
example, the newly patented mechanical hamstring device came
as a result of a University wide "Shark Tank" like contest. It
appears that Sports Performance is on the cutting edge!
Art Link
Special Teams Coordinator and Safeties Coach
Coach link talked about the task of replacing two excellent
safeties (Kedrick Whitehead and Noah Plack) and felt that the
team has replaced them with quality players. He mentioned KT
Seay, a freshman who enrolled last spring as well as returnees
Alex Villas, Christian Pierce, Tyler Davis, and Steven Rose, Jr.
In terms of Special Teams, linebackers coach Rocco Dimeco is
helping as he has had experience coaching Special Teams at
other universities. This help has allowed Coach Link to work
more with the safeties.
When asked about how players are chosen to play on special
teams, he pointed out three categories:
1. Some guys play special teams only. These include younger
players and players who have a knack for special teams
play. One of the latter category Link mentioned was Kaelin
Costello.
2. Back-up defensive backs.
3. Those players Coach Carty does not want participating on
Special Teams.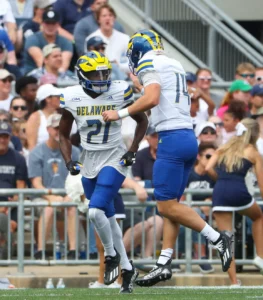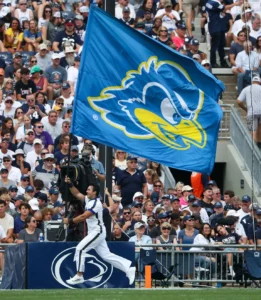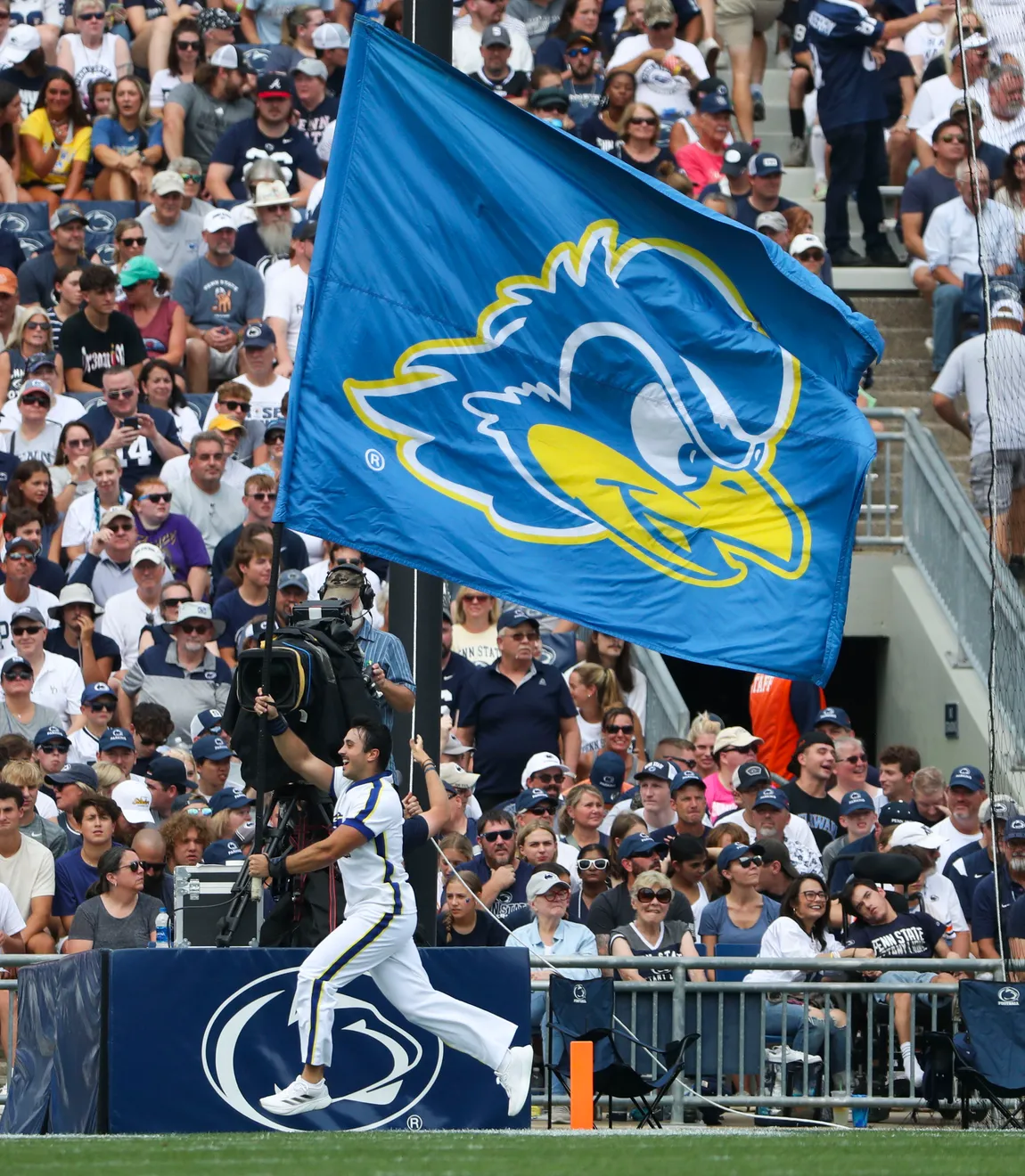 We meet again before the St. Francis University game. At last week's lunch, before the loss at Penn State, we heard from Special Teams and Safeties Coach, Art Link, and Associate A.D. for Sports Performance, Dan WAtson.
This week we will hear from Assistant Coach, Linebackers, Rocco DiMeco and outstanding UD Sports Photographer, Mark Campbell. We expect Mark to share his memories and some of his iconic photos. This should be a good one!
We meet in the Bob Carpenter Club. Doors open at 11:00 AM, Food served at 11:15, Program at Noon.
Register and pay for lunch here:
https://securepayment.link/bluehentdclub/weekly-luncheon-reservation/
Last week's Outstanding Performers:
#21 RB Marcus Yarns
#22 DB Nic Ware
#40 Punter, Ryan Kost
A few seats remain for the Towson bus trip on October 28th. Register and pay here:
https://securepayment.link/bluehentdclub/bus-trip-reservation-towson/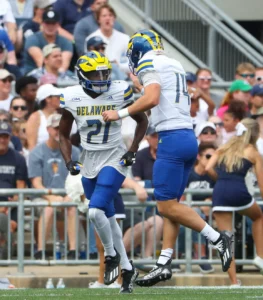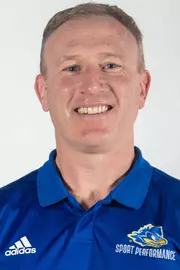 Plan on being at the Bob Carpenter Club on Thursday, September 7th. We expect to hear from Assistant Coach, Art Link (Special Teams/Safties) and Guest Speaker, Dan Watson, Deputy AD Sports Performance & Recreation (photo above).Please register and pay for attendance on our secure website. Doing so saves much time and effort for the Club. Thank you!
Art will review the performance of the team vs. Stony Brook, and provide a look ahead to the Penn State game.
Dan will review the advances in technology and techniques in sports performance.
Here is a review of our first meeting on August 29th:
The inaugural Blue Hen Touchdown Club lunch for 2023 featured
Head Coach Ryan Carty and Director of Athletics (yes, her official
title is a bit longer) Chrissi Rawak. Both answered numerous
questions and provided the lunch attendees with great
information. Their appearances brought some much needed
excitement to Blue Hen fans!
Coach Carty
 1-2 freshmen on offense and 3-5 on defense will likely see
game action against Stony Brook.
 With the changing rules (transfer portal etc.), Coach Carty
stated that there is more mass to evaluate. Since our
coaches do the bulk of the recruiting, they are even busier.
 The kicking game will be better. Both kickers have strong
legs and have a field goal range of 50 yards. Alex Schmoke
the transfer from St Francis is also very good at placing
kickoffs when needed.

 Rule Change: The clock will no longer stop temporarily after
first downs except in the last two minutes of each half.
Chrissi Rawak
 The new video board is fantastic and was used for lacrosse
games in the spring as well as for the freshman event held in
the Tub this past weekend (it was also used for a family
movie event this summer!).
 There was a 90% renewal rate for season tickets and 500
new season ticket holders.
 The athletic department continues to bring a special
experience for each student athlete. The values created are
a large part of the recruiting process whether that process is
for first year students or transfers. Delaware has and must
embrace the transfer portal in order to win.
 The "302 Tour" this summer included 40 student athletes
from various teams and 15 coaches and staff to show
everyone that the University represents the entire state (or
302).
 The next capital project (Phase 2) will be a remodel of the
entire north end zone; a new building on the other side of
that endzone which will house offices, locker rooms, and
conference rooms for 7 teams, including football; renovating
or replacing the existing field house. There will be a public announcement with details when a funding level is achieved.
 Heidi Sarver, Director of the UD Marching Band, will be
retiring after this season.Heidi will be a guest speaker at one of our October meetings!
Art Link pictured below: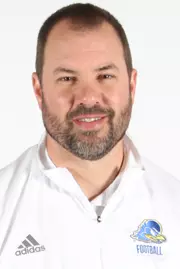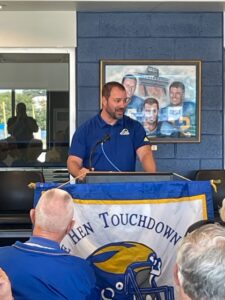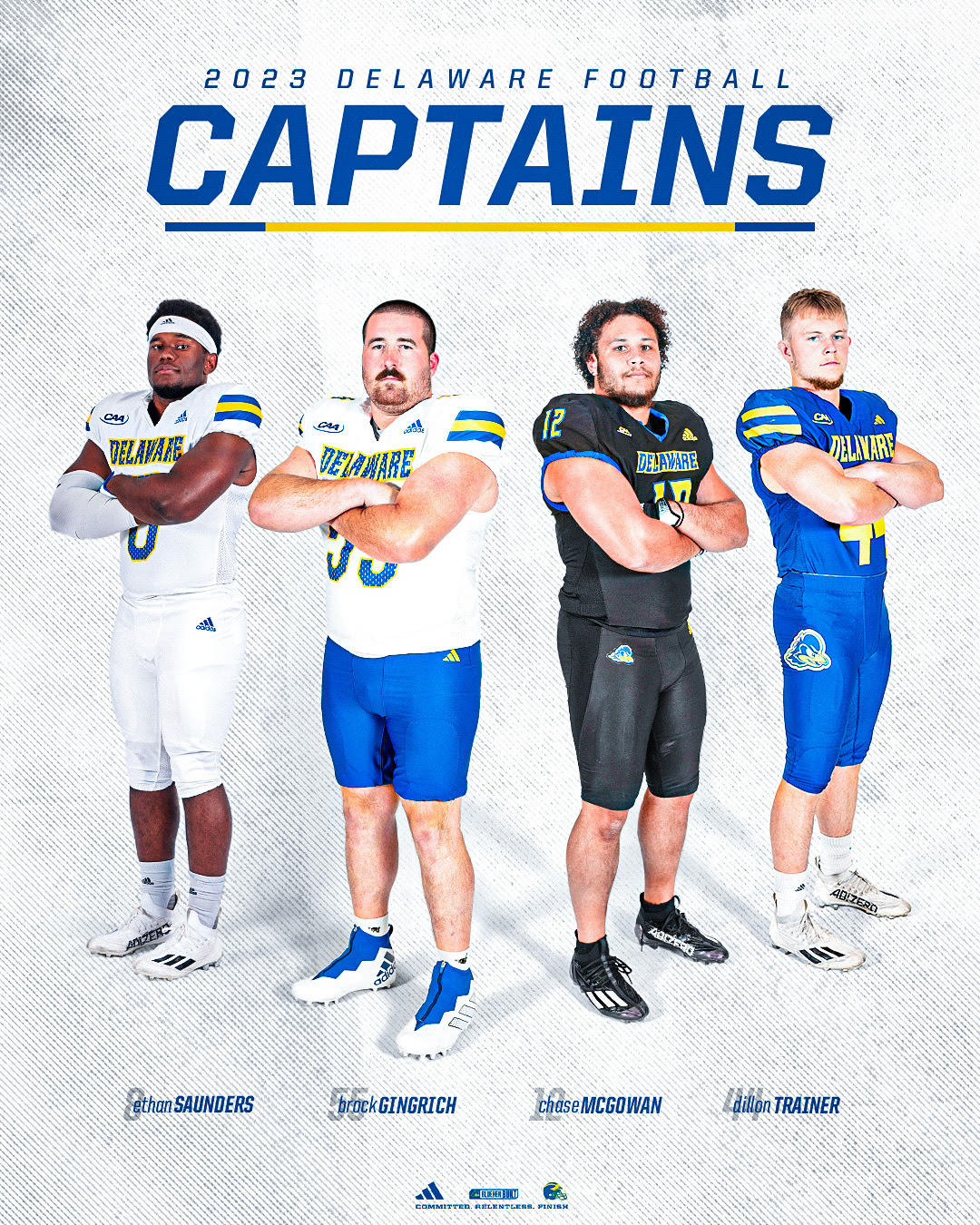 NEWARK, Del. – University of Delaware Football Head Coach Ryan Carty has announced the 2023 captains that will lead the Blue Hens during the upcoming season. The Blue & Gold will be led by a veteran group of defensive linemen Chase McGowan and Ethan Saunders, linebacker Dillon Trainer and offensive lineman Brock Gingrich. The four captains were chosen by a vote of their teammates and coaches.
McGowan is coming off his third-straight All-CAA selection with another strong campaign on the UD front line last season. The Stafford, Virginia native led the squad in both TFL (9.5) and sacks (5.0) while finishing with 30 tackles and was a constant presence in the opponents' backfield with five quarterback hurries and two pass breakups. In 40 career games, McGowan has 63 tackles with 24.0 TFL and 15 sacks.
Saunders saw significant time in the defensive line's main rotation last year, appearing in 12 of UD's 13 games in 2022. He finished with nine tackles, including a season-high three tackles against Monmouth, as well as 2.0 TFL, and 1.5 sacks.
Trainer will look to step into a bigger role in 2023. He appeared in three games last year and has seen time in 22 games over his first three seasons in the Blue & Gold, totaling 21 tackles.
Gingrich has appeared in 23 games in his career with 17 starts at center over the past two seasons including all 13 games in 2022. He led an offensive line last year that helped the Delaware offense average 137.9 rushing and 274.5 passing yards per game. Heavily involved in the community, Gingrich was named a nominee for the 2023 Allstate AFCA Good Works Team earlier this summer.
The Blue Hens open the 2023 season on Thursday, August 31 with a CAA road matchup at Stony Brook. Kickoff is scheduled for 7 p.m. Seats remain available on the bus to Stony Brook with the BHTC. $75 for members, $80 nonmembers. Register on our secure payments page!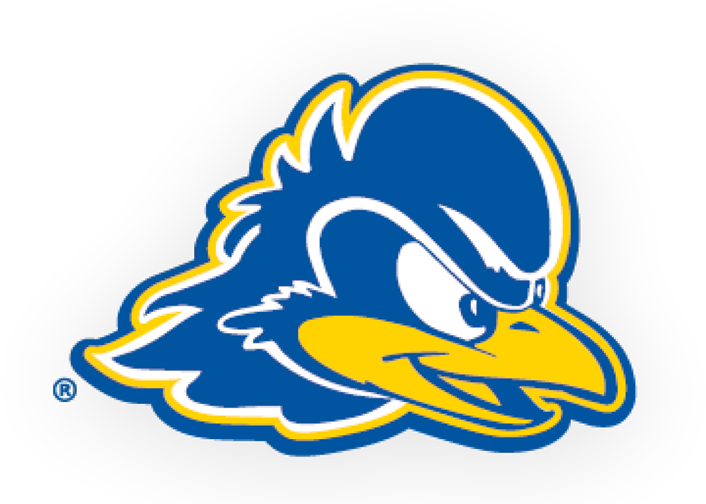 And, along with football, are the BHTC lunch meetings! The first lunch is Tuesday, Agust 29th. The Bob Carpenter Club doors opem at 11:00 AM. Lunch served at 11:15, program starts at Noon. We expect to get an outlook on all sports, and Football specifically from A.D. Chrissi Rawak and Head Coach Ryan Carty. We have a dynamic group of speakers in the following weeks. Stay tuned for updates!
Follow this website for dates of all meetings.
Please, if possible, register in advance for lunches on our payment site.
The gameday bus trips are still open, but only one seat remains for Penn State. If you would like to be placed on a waiting list, let us know. Departure time for the trips will be announced soon!
Due to circumstances beyond our control, we have been forced to eliminate the Hampton trip. Refunds have been processed to those that had signed up.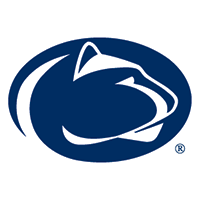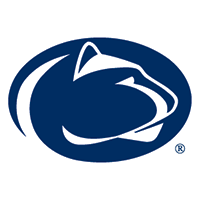 Spring practice is well underway, and the Club is working hard as well, for our Fall activities.
The lunch schedule has been announced, and the game day bus trips are now open to 2023 paid members. Sign up for all three at a discount, or choose the individual game that you want to see. All trips are on full size Delaware Express coaches, but space is limited. Departure times will be announced once the game times are determined.
Remember that game tickets are not included. Also, bus tickets are not refundable, but are tranferable.
For those that have paid the 2023 dues, thank you! To conveniently pay your dues or sign up for a trip:
https://securepayment.link/bluehentdclub/