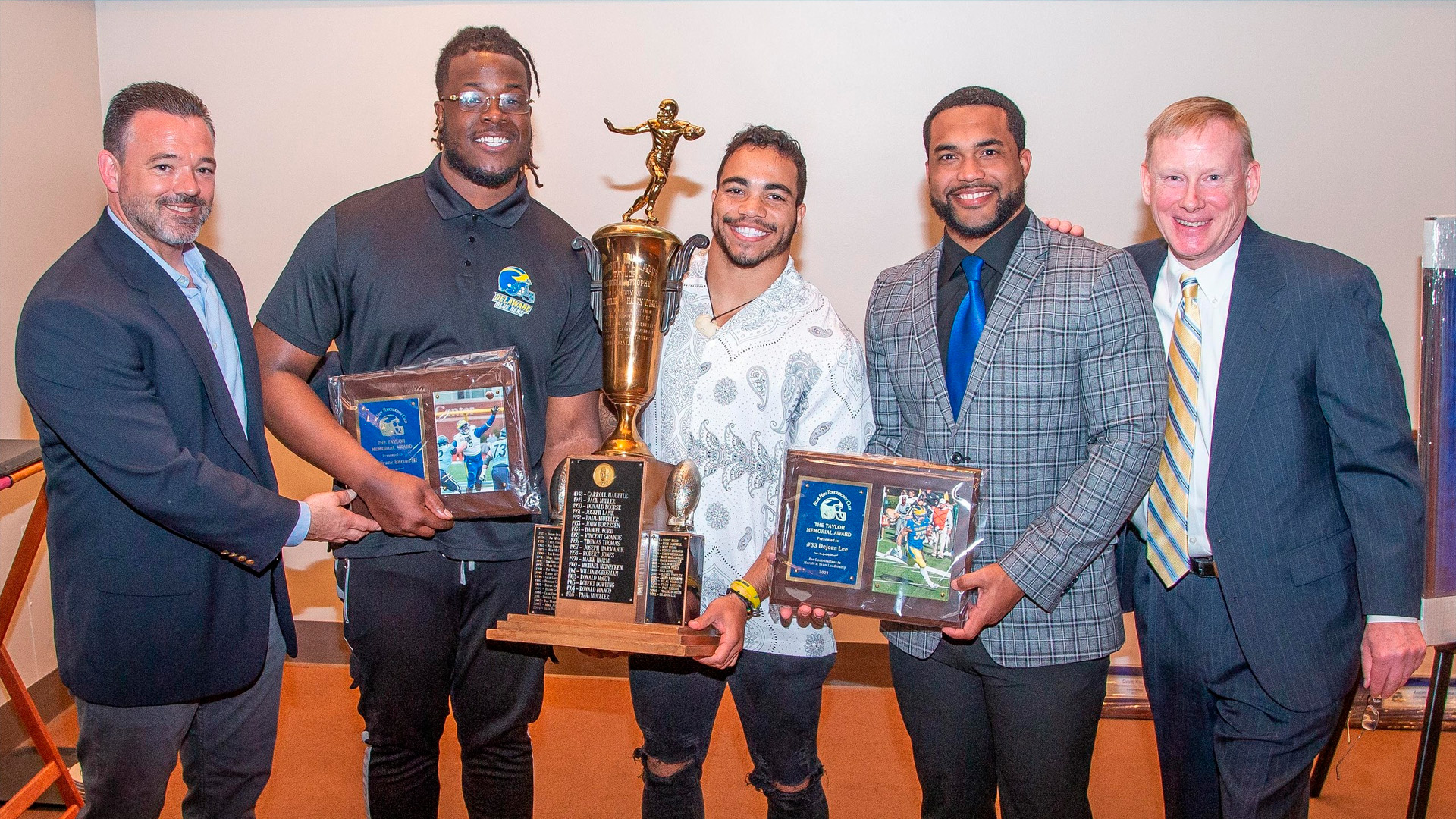 3/29/2022
After a one year delay due to COVID disruptions, the Club was able to hold the Senior Aards Banquet this year. Pictured here, are the Taylor Memorial Award winners. Standing with Strength & Conditioning Coach, Chris Stewart, are Frank Burton III, DL, Dejoun Lee, RB, and Coach Andrew Pierce. Presenting the award is Chip Taylor.
The Club membership was pleased to have new Head Coach, Ryan Carty, and his entire staff in attendance.
Our other award winners can be found in the "About" tab HERE.
If you have questions or suggestions, please use the "Contact" tab HERE.
And of course, to renew your 2022 dues, become a new member, or sign up for bus trips, please use our online payments page under "Join the Club" HERE. Thank you!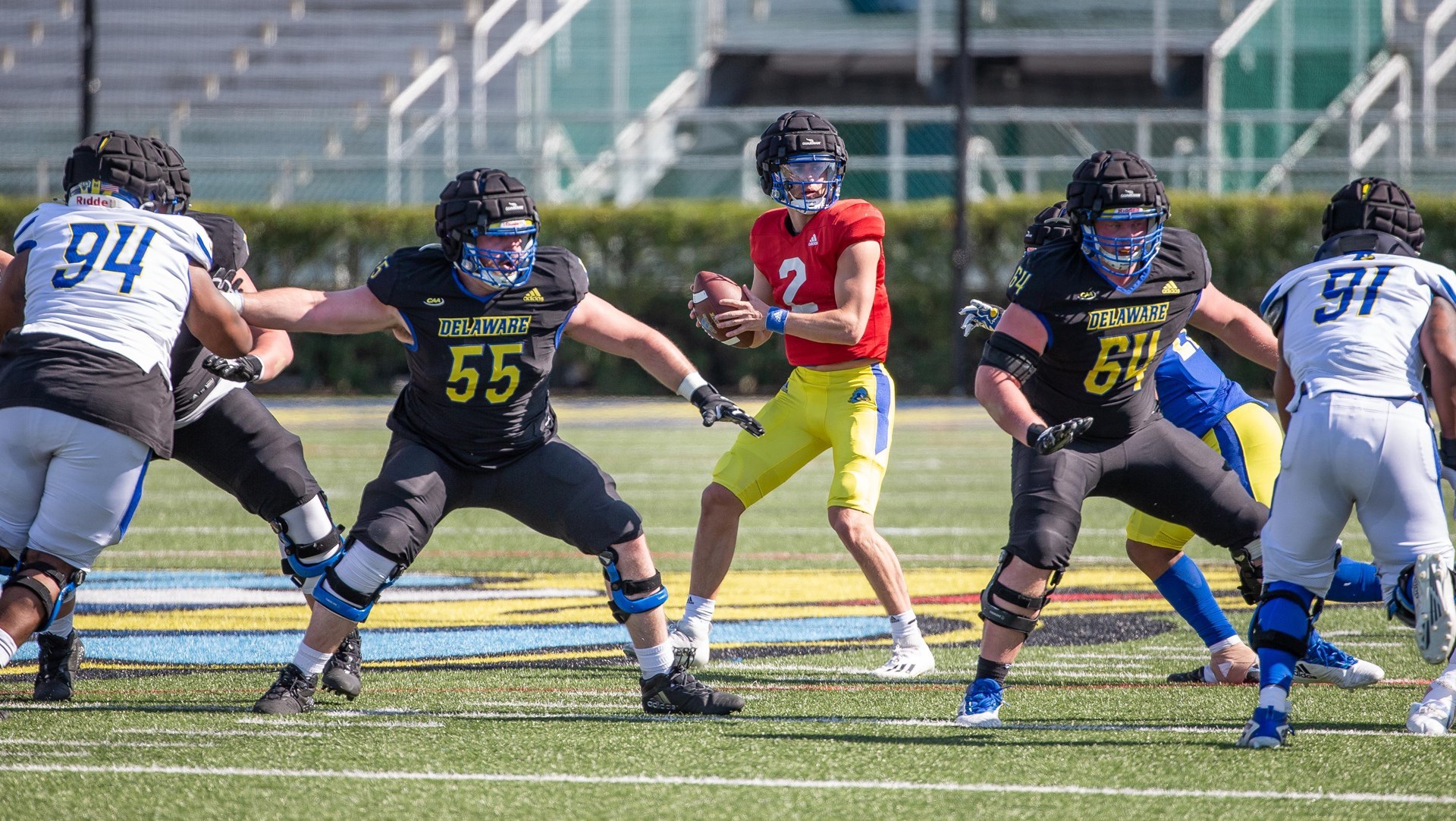 "Football was back at Delaware Stadium on Saturday as the Blue Hens wrapped up their spring practice schedule with the annual Blue & White Spring Football Game. Fans were treated to the first glimpse of Delaware football in the Ryan Carty-era as the squad played approximate 70 plays of live scrimmage.
The team was split into two squads as most players wore either blue jerseys with yellow pants or white jerseys with white pants. Members of Delaware's offensive line and the special teams members wore UD's all-black uniforms as they were suiting up for both sides.
Nolan Henderson, playing for the Blue team, quickly got things going on the first drive of the day as he completed his first two attempts to Brett Buckman.
On White's first drive, Zach Gwynn completed a long pass to Eddie Scannapieco down the left sideline, but a sack by Jack Dinicola and a Ty Davis interception gave possession back to Blue. Gwynn would bounce back to complete a long 40-yard pass to Makhi Jackson.
The defense dominated much of the afternoon as the Blue Hens forced four turnovers on the afternoon, including a red zone interception by Mateo Vandamia following the deep completion to Jackson. Joe Zubillaga added a pick as well."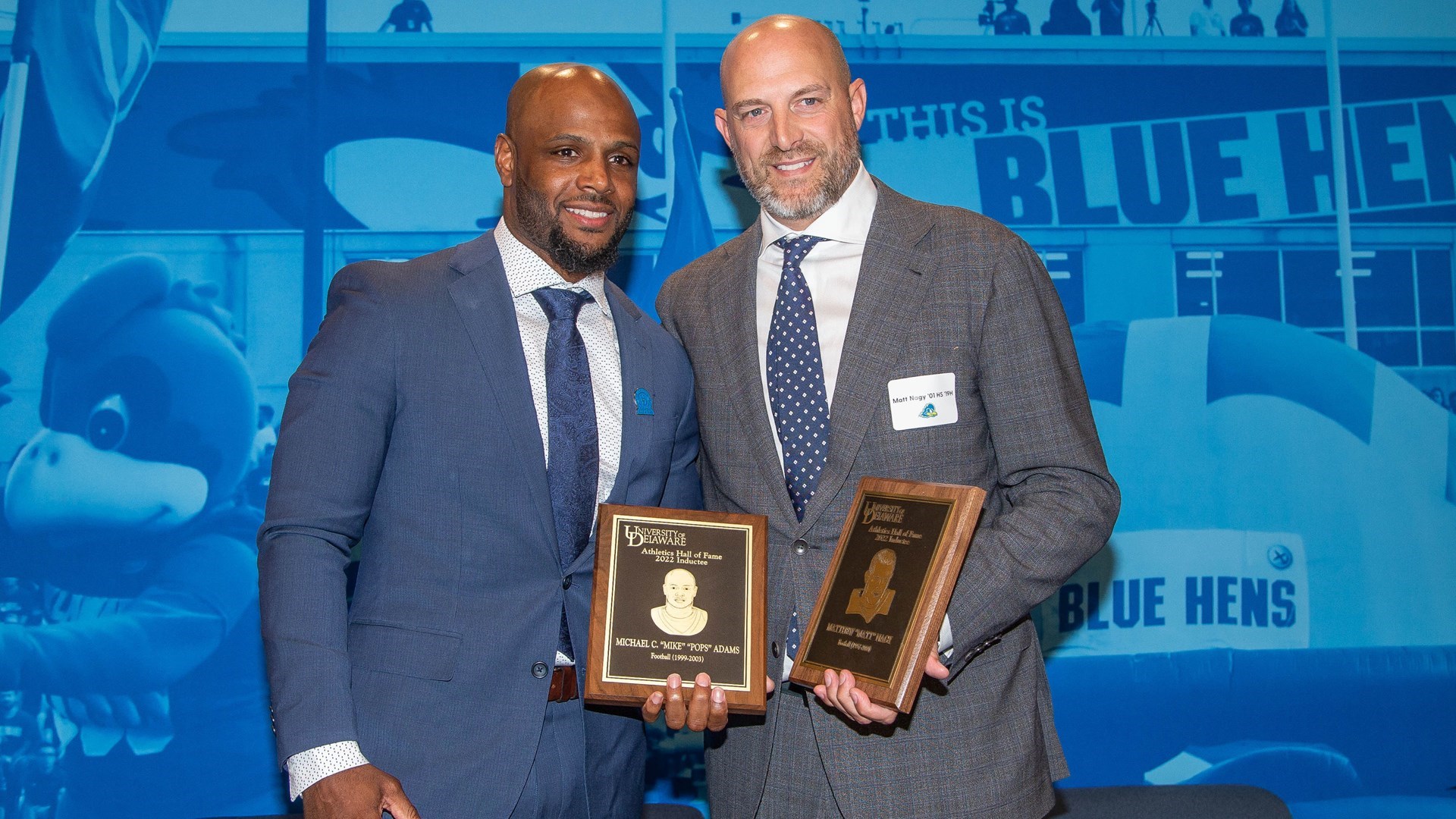 "There was a special kind of atmosphere in the air on Friday night, April 15th, as a pair of Blue Hens finally received their due as University of Delaware alums Mike "Pops" Adams and Matt Nagy were inducted into the Delaware Athletics Hall of Fame in a special Spring Induction Ceremony at the Whitney Athletic Center. The two football greats join 
six other UD alums
 who were honored in a ceremony during the fall.
Throughout the 30-minute program Adams and Nagy not only recollected fond memories on the field but also the relationships that they forged while in Newark, as well as those that helped them get to the University of Delaware and the coaches and other individuals who helped them thrive in the Blue & Gold and pursue their careers in professional football."