BHTC Bus Rolls To Towson – Hens CRUSH Tigers
The Fightn' Blue Hens stepped on the Tiger's neck from the start, after an outstanding Club meeting last Thursday. Full meeting report below in this post!
We meet again this Friday, November 3rd in the Bob Carpenter Club. Doors open at 11:00, lunch at 11:15, program at noon.
Speakers: Asst. Head Coach Terence Archer and UD Hall of Fame and All-American Defensive Back, George Schmitt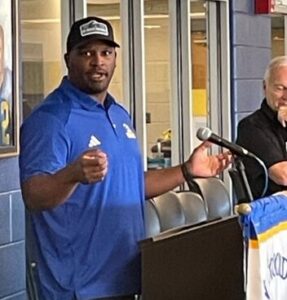 Defensive Line Coach Sam Daniels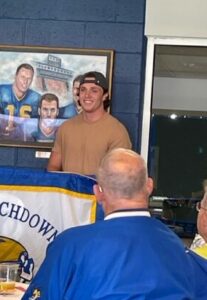 Offensive MVP for Hampton, Phil Lutz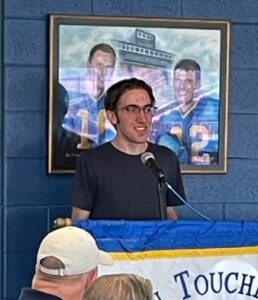 Sports Journalist, Dan Steenkamer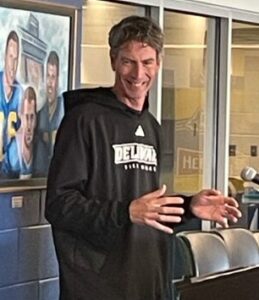 Field Hockey Head Coach, Rolf van de Kerkhof
Sam Daniels
We will need to score more points than Towson does, stated UD defensive line coach, Sam Daniels. Well, it appears the Blue Hens achieved this goal as the Tigers were dominated by Delaware 51-13! The defense stood strong led up front by the three down linemen in Delaware's 3-2-6 scheme where Daniels said Delaware rotates nine players. Those nine players continue to improve from last year and throughout this season because they are more successful getting off the blocks of the opposing offensive linemen in the run game.
When asked about recruiting, Coach Daniles emphasized that, apart from the obvious talent observed on film, the current staff recruits kids who share the team's core values. Before a high school recruit or transfer is invited for a visit to campus, players are vetted by Coach Carty and the appropriate position coach along with recommendations from third parties.
We are not only having success on the field this year but also attracting talented and solid young men into the program.
Dan Steenkamer, Writer, Hero Sports. Managing Sports Editor,
UD Review. On-air personality, WVUD Sports
At the Blue Hen Touchdown Club, we celebrate Dan's success in his career because he is a UD Student but also graduate of St.Elizabeth's High School in Wilmington. A Delaware fan since childhood, Dan has developed into an expert on FCS football particularly in the Mid-Atlantic and Northeast regions.
Dan provided news about UD as related to FCS, the CAA, and the NCAA.
1. Dan predicted the FCS playoff committee rankings would place Delaware between 6 and 10 in the nation. UD did even better at number 5 as the ranking was published later in the day!
2. The four-game limitation to be able to redshirt a player will not include playoff games.
3. The CAA is having preliminary discussions with Merrimack and Sacred Heart who are leaving the NEC after this year.
Dan reports that UD officials have expressed their
disappointment about the inclusion of teams into the CAA
over the past few years.
4. Delaware is definitely looking to make a move into the FBS world of college football with the MAC as a possible
destination.
Rolf van de Kerkhof
An elite coach, Rolf has coached his teams, during his 13 years at UD, to a National Championship, nine CAA tournament championships and six CAA regular season titles. He and his staff have also been named CAA coach of the year three times, twice as NFHCA regional coach of the year and once as NFHCA Division I coach of the year.
So when your team has a rare down year for Delaware Field Hockey in 2023, Coach van de Kerkhof remains positive and tells his players the true definition of a champion is when you give your very, very best and don't worry about what others say. 2023 brought injuries to two of his best players either for the entire season or most of it necessitating the playing of young players (3-4 first year student-athletes) who may not have been quite ready to play consistently at this level.
Coach pointed out that perennial powers like Princeton and Connecticut also had down years. He told us that his players never threw in the towel, continued to show emotion, and worked hard all year.
We are looking forward to those guiding principles and a
developing talented team to get back to the top next year. And so is Coach Rolf!