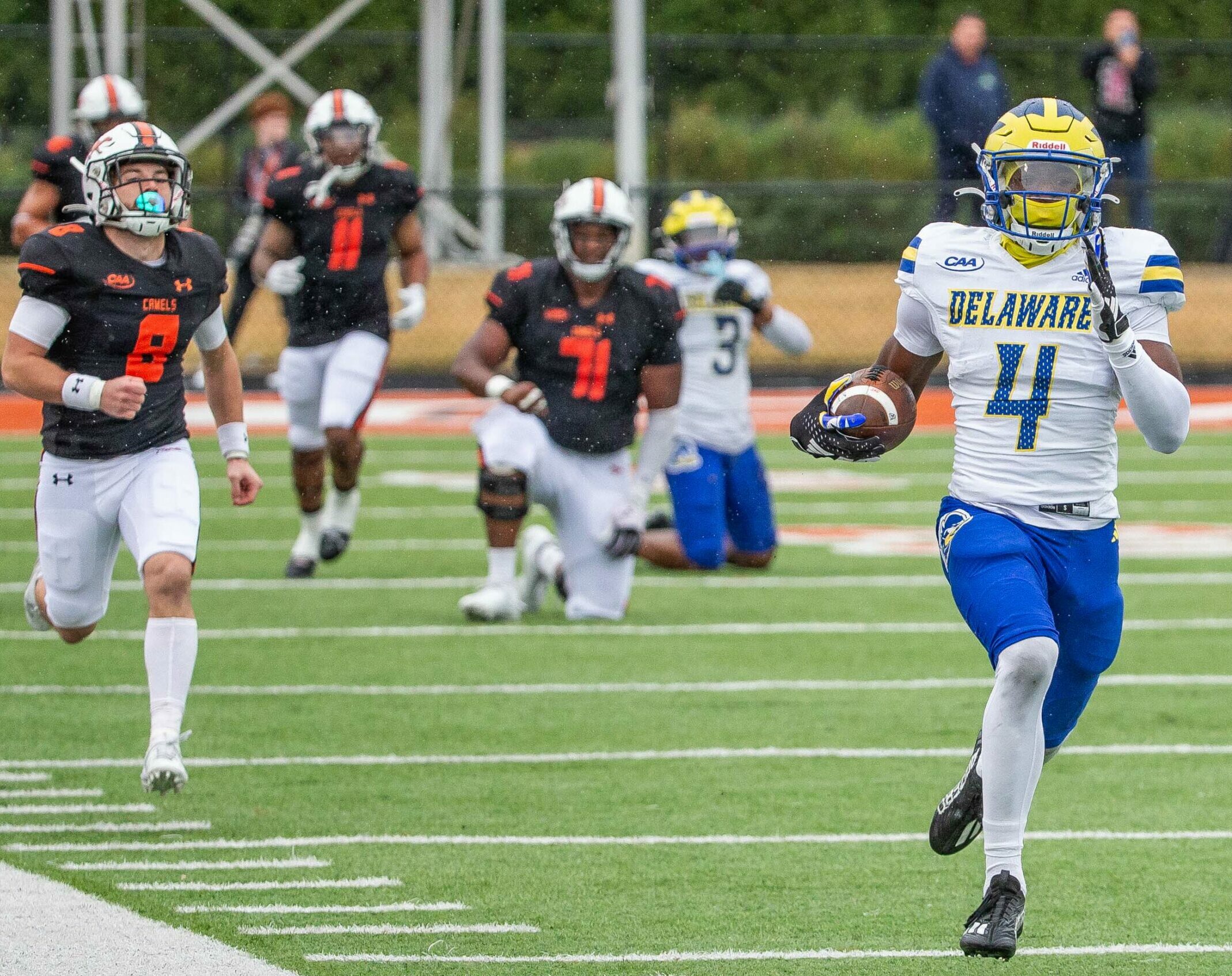 Hens Crush Camels – Busy Meeting This Friday
Above, Defensive MVP Khalil Dawsey's 100 Yd INT
UD's 8th win at Campbell, leads to this week's Villanova game, with everything on the line.
Campbell MVP's:
Offense #54 Fintan Brose
Defense #4 Khalil Dawsey
Spec. Teams #91 Nate Reed
This week's meeting (Friday, 11/17/2023) includes:
Andrew Pierce, Running Back Coach and Recruiting Coordinator
Sarah Jenkins, Women's Basketball Coach
Martin Ingelsby, Men's Basketball Coach
– BHTC vote for 2023 MVP's
– BHTC vote for officers
– Final Red Ticket Drawing for MANY high quality items.
Lunch served at 11:15, program at Noon!

Full report on last week's meeting, thanks to Mark Werrell:
After explaining what happened on the three big pass plays against the Hens in the Elon game, corner backs coach Corico Wright promised that "next time you'll be very proud" of the defense. Certainly, we were proud as the Blue Hens came up with two interceptions, a fumble recovery, and a key fourth down stop versus Campbell.
Schematically, Delaware was able to, as Coach Wright stated, force their talented quarterback into a corner limiting his running ability and passing accuracy. Obviously, the game plan worked!
I'm sure that Corico did not want to have another "very stern" film session as they did after the Elon loss. Let's hope that the film session after Campbell was, as coach quipped, "light and fluffy"!
Both Ben Deluca, head men's lacrosse coach and Greg Mamula, head baseball coach, gave us updates on their teams. As Deluca seeks a national championship for the laxmen, he has brought in 14 freshmen and two transfers (Colgate and Fairfield) to do battle in the spring of 2024. Additionally, he has 12 verbal commitments from high school players for the 2024-25 year.
Ben commented that lacrosse is evolving into a nation-wide sport and is in fact the fastest growing sport in the country (even more than pickleball?). He is trying to schedule teams from the Big-10 and the Ivy League but most schools do not want to schedule the Hens because they know they could lose. He did, however, schedule Michigan at home, Penn at a yet to be determined place and Syracuse at a neutral site. I guess the "good old boy" network is breaking down a bit.
When interviewed for the UD job, he was sold with his first conversation with AD Chrissy Rawak and her vision of the direction of UD athletics. It also didn't hurt that his wife is a former Blue Hen All-American lacrosse goalie!
Baseball coach Greg Mamula gave us information about the baseball stadium which is getting new turf and new wall padding. Additionally, due to a generous donor, UD was able to acquire TrackMan which measures everything that happens to a baseball (speed of pitches, speed of ball leaving the bat, rotation of pitches, etc.). This information can not only be used for internal analytics to help the team but the data goes directly to Major League Baseball. Recruits ask about this capability almost without exception.
Additionally, the team will now have visible pitch clocks that have sped up the game, a factor that Greg likes because he likes an up tempo game.
Delaware has 36 players on the roster including 10 from the First State. One of those local players is Tyler August who received scholarship offers from "everybody". The son of former UD player Brian August, Tyler throws a 98mph fastball and will certainly be drafted into MLB when he is eligible. Greg is expecting big things from this young man!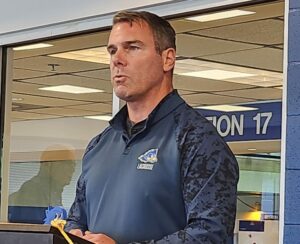 Coach Ben DeLuca, Men's Lacrosse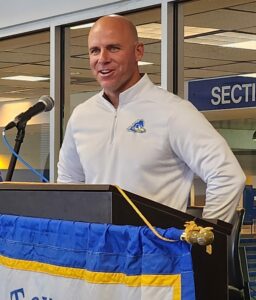 Coach Greg Mamula, Baseball Coach
Photos: Courtesy of Mark Campbel and Howdy Giles