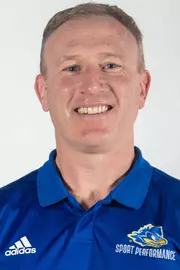 Next Meeting, 9/7/2023 And A Review Of Our First Meeting
Plan on being at the Bob Carpenter Club on Thursday, September 7th. We expect to hear from Assistant Coach, Art Link (Special Teams/Safties) and Guest Speaker, Dan Watson, Deputy AD Sports Performance & Recreation (photo above).Please register and pay for attendance on our secure website. Doing so saves much time and effort for the Club. Thank you!
Art will review the performance of the team vs. Stony Brook, and provide a look ahead to the Penn State game.
Dan will review the advances in technology and techniques in sports performance.
Here is a review of our first meeting on August 29th:
The inaugural Blue Hen Touchdown Club lunch for 2023 featured
Head Coach Ryan Carty and Director of Athletics (yes, her official
title is a bit longer) Chrissi Rawak. Both answered numerous
questions and provided the lunch attendees with great
information. Their appearances brought some much needed
excitement to Blue Hen fans!
Coach Carty
 1-2 freshmen on offense and 3-5 on defense will likely see
game action against Stony Brook.
 With the changing rules (transfer portal etc.), Coach Carty
stated that there is more mass to evaluate. Since our
coaches do the bulk of the recruiting, they are even busier.
 The kicking game will be better. Both kickers have strong
legs and have a field goal range of 50 yards. Alex Schmoke
the transfer from St Francis is also very good at placing
kickoffs when needed.

 Rule Change: The clock will no longer stop temporarily after
first downs except in the last two minutes of each half.
Chrissi Rawak
 The new video board is fantastic and was used for lacrosse
games in the spring as well as for the freshman event held in
the Tub this past weekend (it was also used for a family
movie event this summer!).
 There was a 90% renewal rate for season tickets and 500
new season ticket holders.
 The athletic department continues to bring a special
experience for each student athlete. The values created are
a large part of the recruiting process whether that process is
for first year students or transfers. Delaware has and must
embrace the transfer portal in order to win.
 The "302 Tour" this summer included 40 student athletes
from various teams and 15 coaches and staff to show
everyone that the University represents the entire state (or
302).
 The next capital project (Phase 2) will be a remodel of the
entire north end zone; a new building on the other side of
that endzone which will house offices, locker rooms, and
conference rooms for 7 teams, including football; renovating
or replacing the existing field house. There will be a public announcement with details when a funding level is achieved.
 Heidi Sarver, Director of the UD Marching Band, will be
retiring after this season.Heidi will be a guest speaker at one of our October meetings!
Art Link pictured below: