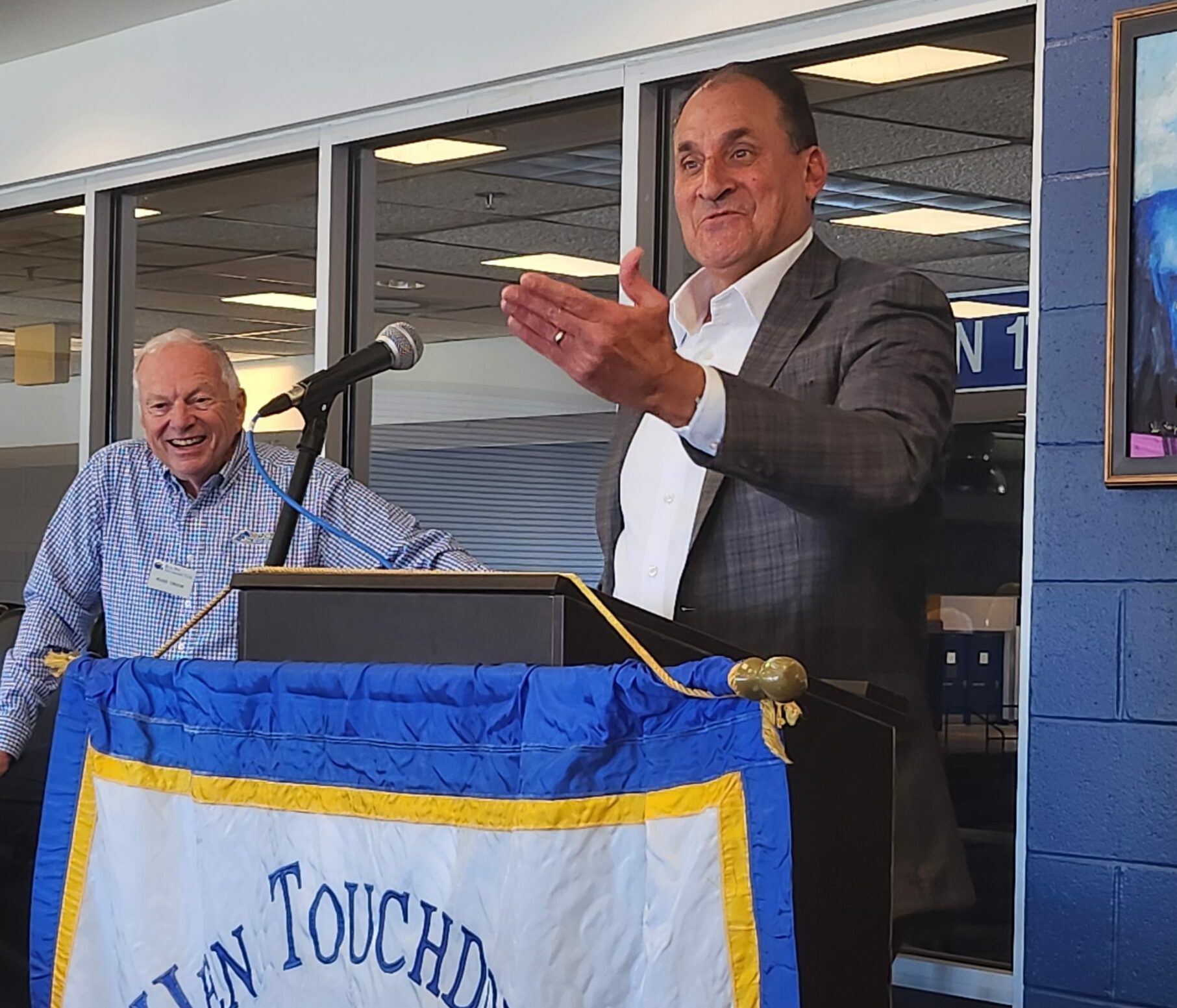 On To The Camels – BHTC Meeting This Thursday
Pictured above, All-American Defensive Back, NFL Veteran, George Schmitt
We had fun at last week's lunch meeting, but not so much just a day later. Watch for an update here for a full meeting report where we heard from two UD Athletic Hall of Fame Members, along with MVP's for Towson, Braden Brose and Tyron Herring.
Coach Terence Archer
Coach Archer, the assistant head coach and coach of the wide receivers described the Elon football team as well coached having some very good wins to their credit. Unfortunately, the Phoenix had another good win, against Delaware, this past Saturday.
Archer, who coached with Ryan Carty at Sam Houston, State told the club that it was a no brainer for him to follow Carty to Delaware. Having graduated from Monmouth University, Archer grew up in Abington, PA which is in Montogomery County just north of Philly. He was happy to come back east to not only coach football but to be nearer to family.
When asked the obligatory question about who would be starting at QB against Elon, Archer smiled and stated that the decision was above his pay grade.
George Schmitt
After his All-American career at Delaware, George was drafted by the St. Louis Cardinals. He characterized the Cardinals at that time as very strict levying fines for certain behaviors and activities such as $3,000 for dating a cheerleader. George stated however that that fine was "well worth it"!
Having made the team but rooming with a starting player and a rotational player, he had no buddies to go out with. Finally, the Cardinals picked up some players from waivers, who were not going to have much playing time, and he formed crew to go out on the town. Due to some injuries, however, Schmidt had to play against the likes of NFL legends Dan Fouts and Charlie Joiner of the San Diego Chargers. George quipped that he realized "this ain't Colgate". Unfortunately, a back injury and subsequent fusion surgery ended his pro career prematurely.
Currently, George works for the Tsionas Development Corp in Newark and one of his daughters is married to the current assistant men's lacrosse coach at UD, Trey Wilkes. Recently, he has had several opportunities to speak with UD President Dennis Assanis and, though no details were given, Delaware football is on the move. You can derive from that statement what you wish!
Bob Hooper
In a touching and revealing talk, long-time BHTC member and UD Hall of Famer for his contributions as a QB in the early to mid-1950's, Bob Hooper told us the story of Lenny Williams. Williams was the first black football player at UD. It was a time when blacks were not allowed on Main Street after dusk being told to go back to the other side of the train tracks by the police.
Although the players looked out for Lenny, segregation was rampant. The team was told at an end of the year celebration at the Deer Park that the "black guy had to leave" otherwise the police would be called. Well, the entire team left.
Lenny couldn't believe it when Bob invited him to his Aunt's house for lunch after a trip into Wilmington. It just wasn't done in those days. Described by Bob as a spectacular guy who graduated from UD and law school, Lenny Williams eventually became a judge in Wilmington. In fact, in the government center on King Street you will see on the side of one of the buildings, the Leonard J. Williams Justice Center.
Lenny (the team's center) once said Bob (the team's QB) was never a problem because he (Bob) spent four years with his hands up my a**!
With pride and awe, Bob is happy to have his Hall of Fame plaque on the same wall as Lenny's who was posthumously inducted in 2021.
Thank you, Bob Hooper for a great story!
We meet this Thursday and hear from:
Corico Wright, Assistant Coach/Cornerbacks / Defensive Pass Game Coordinator
Baseball Coach, Greg Mamula
AND
Men's Lacrosse Coach, Ben DeLuca
Bob Carpenter Club, doors open at 11:00, food at 11:15, program starts at Noon
Register on our secure website.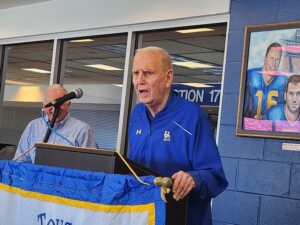 Hall of Fame Member, Bob Hooper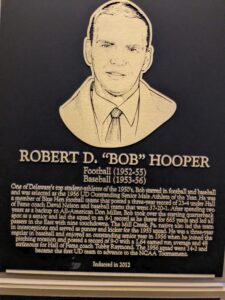 Bob Hooper's HOF Plaque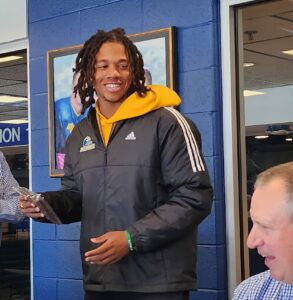 Defensive MVP for Towson, Tyron Herring
Photos, Courtesy of Howdy Giles